Norwegian has initiated a formal financial restructuring for its Norwegian Air International subsidiary and aircraft leasing unit Arctic Aviation Assets under an Irish examinership process.
The cash-strapped low-cost carrier says the purpose of the process is to reduce debt, rightsize the fleet and secure new capital. In initiating an examinership process in Ireland for Norwegian Air International and Arctic Aviation Assets – as well as some of it subsidiaries – parent Norwegian Air Shuttle will also "enter in and get protection of the Irish examinership process as a related party".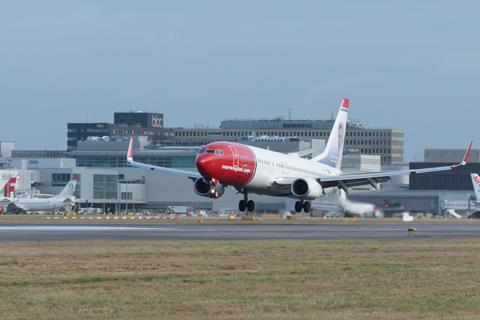 It estimates the process will take up to five months.
The company says that based on its current cash position and the projections going forward, it believes it has sufficient liquidity to make it through the above-mentioned process.
Norwegian says the move follows the Norwegian government's decision earlier this month to withhold further state support for the airline amid the continued Covid-19 pandemic.
It says it chose an Irish process since its aircraft assets are held in Ireland, and that the decision has been taken in the interest of its stakeholders.
Dublin-based Norwegian Air International secured an Irish AOC in 2014 and took over long-haul operations – ultimately securing a contested US approval to operate transatlantic flights. Arctic Aviation Assets handles aircraft financing and ownership for the group.
Norwegian chief executive Jacob Schram says: "Seeking protection to reorganise under Irish law is a decision that we have taken to secure the future of Norwegian for the benefit of our employees, customers and investors. Our aim is to find solutions with our stakeholders that will allow us to emerge as a financially stronger and secure airline.
"Our intent is clear. We will emerge from this process as a more financially secure and competitive airline, with a new financial structure, a rightsized fleet and improved customer offering."
After a period of major expansion, including pioneering long-haul low-cost services, Norwegian had already begun retrenching its network in a bid to secure profitability even before the global pandemic struck. When the Covid crisis hit, Norwegian undertook a major financial restructuring in May – under which several of it lessors took a sizeable stake in the airline under a debt-for-equity swap. This enabled the airline to unlock lifeline state aid from the Norwegian government.
But the airline, which had said further funding would be required to see out the winter given the continued impact of the pandemic, warned of a "very uncertain future" after Norway's government ruled out providing it with further state aid.
Norwegian will continue to operate flights – though its already heavily reduced network was further cut after the Norwegian government decision – and will trade as normal on the Oslo Stock Exchange.