Norwegian is asking the government in Oslo for an immediate bailout as it struggles to cope with the coronavirus outbreak that is decimating travel demand.
"We're in a very demanding situation at the moment," states chief executive Jacob Schram. "We need exact measures to strengthen our liquidity in the short term immediately."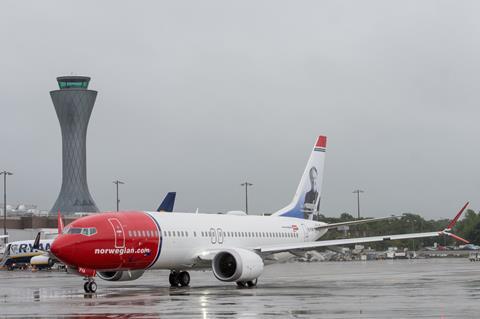 While the carrier welcomes a move to suspend some taxes levied on airlines such as passenger fees, "it is crucial for us that the government will work on solutions for a phase two. We are asking for these solutions to come quickly," Schram says.
Norwegian is willing to take "all measures necessary" to reduce its losses, he continues, "no matter how painful they are."
The Norwegian government has said that it could be open to providing the industry with financial help in other ways, press reports say, although no details have been announced.
Market turmoil means that Norwegian is unable to turn to investors to raise equity or issue debt in order to secure new liquidity, "which means that it is not possible to finance businesses in a normal fashion".
The carrier highlights that it has undergone significant restructuring over the past year and has sold 24 aircraft. It also has a low share of fuel hedging, locking only 25% of its expected fuel consumption – which could see it benefit from a recent fuel price reduction.
In a note to clients issued yesterday, HSBC said that it expected Norwegian to face "cash flow challenges in the near term," given the dramatic deterioration in market conditions and the US ban on travellers from Schengen-area European countries. "Suppliers will likely take a very cautious view towards Norwegian, exacerbating cash challenges. The likelihood of airlines being able to raise significant amounts of new equity in the present environment does not look high."