Transat AT, the parent company of Canadian leisure airline Air Transat, gained ground financially but still posted a loss of C$126 million ($92.2 million) in the company's fiscal fourth quarter.
For comparison, the Montreal-based holiday specialist lost C$121 million in the same three months in 2021, which ended on 31 October.
"We are clearly on the road to recovery," Annick Guerard, chief executive of Air Transat, said on15 December. "Our results are improving and our confidence is growing. With each quarter, we have seen more robust sales, increased activity and improvement in our financial situation. This momentum is continuing."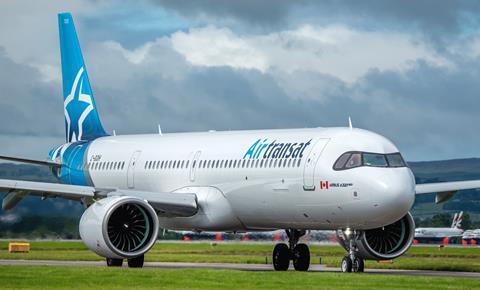 With travel abroad acting as "a main factor driving Air Transat's recovery", Guerard says, the company reported fourth-quarter revenue of C$573 million – compared with C$62.8 million during the Covid-19-stunted fourth quarter in 2021, during which Canada's pandemic-related restrictions were still in full effect.
For the full fiscal year, the leisure carrier reports revenue of C$1.6 billion, up from 2021 revenue of C$125 million.
As for the airline's 2023 outlook, "the trend is clear and booking patterns are encouraging", Guerard says. "As indicated by our yield, consumers are ready to travel approximately 15% more than they did in winter 2019."
The airline anticipates its 2023 capacity will reach 90% of 2019 levels. "However, in eastern Canadian markets, where we are concentrating our activities, we will actually deploy a capacity close to 7% more than in 2019," Guerard says. Notably, the airline did not specify a timeframe for returning to profitability during the earnings call.
Though "the present financial situation is far from ideal", Guerard says, Air Transat is still pursuing growth and modernising its fleet of Airbus A321s and A330s. "Our fleet renewal efforts speak to our confidence moving forward."
At the end of November, the company placed orders for two more A321LRs, in addition to orders for four A321XLRs which had been announced at the end of the company's third quarter. Delivery of the jets, expected through 2027, will allow Air Transat to increase the frequency of its transatlantic flights without sacrificing capacity.
"Today, we have 23 of these next-generation aircraft in our fleet or on order," Guerard says. "This modernised fleet continues to provide us with increased operational efficiency, especially in context of our fuel costs." Fuel prices were up 61%, or C$72.6 million, in 2022 over the previous year.
Also, with new codeshare agreements struck in recent months with Porter Airlines and WestJet, Air Transat's network of available destinations has grown to more than 300, Guerard says.
Air Transat had C$423 million in unrestricted liquidity as of 31 October, down from C$603 million on the same date the previous year.