An online travel agency group is suing low-cost carrier JetBlue Airways for removing its flights from the external travel portals, forcing customers to book more expensive fares through the airline's own website.
Fareportal Holdings, which operates the online travel agency (OTA) websites Cheapoair and Onetravel, says on 7 January that New York-based JetBlue is attempting to raise its prices for tickets on routes that it dominates, and prevent potential travellers from comparing airfares directly.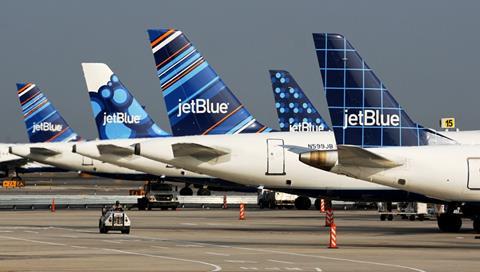 "Amidst the turbulence of the global pandemic, JetBlue is quietly pursuing a scheme to make it harder for American consumers to save money when they book air travel," the company writes in the suit, filed in a New York court on 5 January. "JetBlue's goal is simple: to make it difficult for consumers to comparison shop when they want to fly."
The suit contends that JetBlue forced Fareportal to remove flight and pricing data from its websites as well as "a dozen" others as part of a strategy "to turn back the clock" and "return to the old days, before OTAs, when airline content was hidden".
Fareportal says the carrier's policies will disproportionately affect travellers in cities where JetBlue has a strong presence, including New York, Fort Lauderdale, Orlando, Boston, Los Angeles and San Juan, Puerto Rico.
The lawsuit also alleges that the airline is using its coronavirus relief funds to help support "its anti-competitive strategy" and it is "prepared to suffer short-term losses because it is using taxpayer dollars to defray them".
The carrier accepted $685 million in financial aid from the government earlier this year at the beginning of the global health pandemic.
JetBlue calls the lawsuit "frivolous and wholly without merit", adding that it guarantees that passengers can book the lowest JetBlue fare on the company's own website. It also says that "currently over 10 aggregator and OTA sites offer customers the ability to compare JetBlue fares".
"It is common industry practice for airlines to choose where to sell their products," the carrier adds. "We are currently one of several major airlines not selling via Fareportal's platforms."