Pegasus Airlines' chief commercial officer Guliz Ozturk will step up to lead the carrier from 1 May, with current chief executive Mehmet Nane moving to a boardroom role at the Istanbul-based budget operator.
Ozturk will become the first female airline chief executive "in the history of Turkish civil aviation", Pegasus notes.
"I am honoured to receive the baton from Mehmet Nane," Ozturk states. "As Pegasus Airlines, we have accomplished many firsts and pioneering projects under his leadership since 2016, and we have made our country proud many times in the international arena.
"One of the issues on which we will also be most focused will be gender equality," she continues. "We will make every effort, institutionally and individually, to contribute to the equal participation of women and men in all areas of social life and to enable women to express their full potential."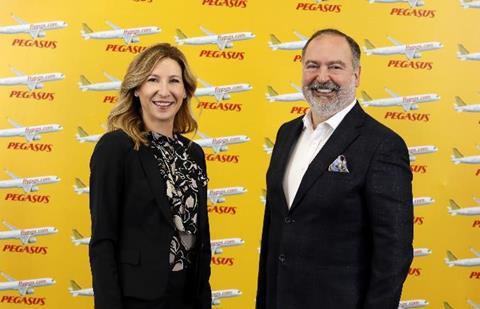 Ozturk's career to date includes a long stint at Turkish Airlines between 1990 and 2003. She joined compatriot Pegasus in 2005 as head of sales and marketing before being appointed chief commercial officer in 2010.
Nane, who was named as chief executive of the low-cost carrier in 2016, will become the airline's vice-chairperson and still intends to sit as chair of IATA's board of governors from June this year.
"I wholeheartedly believe that Ozturk will continue to wave the flag of Pegasus brightly in the skies," Nane says. "In my new role at Pegasus Airlines, I will continue to work tirelessly to reinforce the position of Turkish civil aviation as a rising star in the world, and to support the growth of our company as we forge solidly ahead."
The appointments were formalised at a Pegasus board meeting on 31 March.
Ozturk's appointment follows news on 31 March that Marjan Rintel will replace Pieter Elbers as chief executive of KLM.
Once Ozturk and Rintel are in place – and barring any other developments – the airline industry will count nine female chief executives among the top 100 passenger carriers, according to FlightGlobal data. That marks a rise from only two women leading top airlines in 2018.