Emirates Group posted a loss of Dh14 billion ($3.8 billion) for the six months ended 30 September as revenues slumped 74% during the first half of its pandemic-hit financial year.
It marks the first time the Dubai carrier has posted a first-half loss in more than 30 years of operation.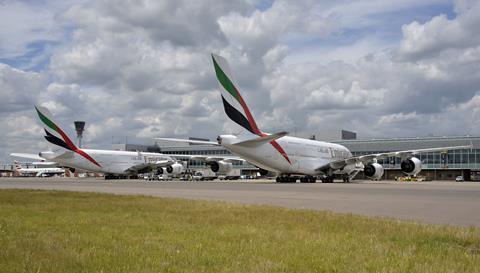 The sharp decline in revenues includes an eight-week suspension in scheduled passenger flights in the the UAE during April and May as part of measures to counter the spread of the coronavirus.
Emirates Group chief executive Sheikh Ahmed bin Saeed Al Maktoum says: "As passenger traffic disappeared, Emirates and Dnata have been able to rapidly pivot to serve cargo demand and other pockets of opportunity. This has helped us recover our revenues from zero to 26% of our position at the same time last year."
Emirates resumed scheduled passenger operations on 21 May and by the end of September was operating passenger and cargo flights to 104 cities.
Passenger traffic was down 96% during the six months – the airline carried only 1.5 million passengers between April and September – on capacity cut 91%. Average passenger load factor was 38.6% – less than half the 81.1% it reported for the same period last year.
Cargo volumes were hit too as a result of the reduced belly capacity on passenger aircraft. But Emirates was able to carry around 65% of previous-year cargo levels, in part helped by the partial retrofit of 10 Boeing 777-300ER passenger aircraft to transport freight in the cabin.
Emirates also reports a more than doubling of cargo yields during the period, as freight demand outpaced the global reduction in capacity as a result of the loss of belly capacity on passenger aircraft.
This contributed to a 75% fall in revenue at the airline, to Dh11.7 billion for the first half. Losses stood at Dh12.6 billion compared with a profit of Dh862 million for the same stage last year.
Group revenues, including handling unit Dnata, were down 74% to Dh13.7 billion. Group net losses stood at Dh14.1 billion for the first half.
Al Maktoum adds: "We have been able to tap on our own strong cash reserves, and through our shareholder and the broader financial community, we continue to ensure we have access to sufficient funding to sustain the business and see us through this challenging period. In the first half of 2020-21, our shareholder injected $2 billion into Emirates by way of an equity investment and they will support us on our recovery path."
Emirates says the group had cut its employee base by 24% to 81,334 as of the end of September compared with 30 March 2020.
"This is in line with the company's expected capacity and business activities in the foreseeable future and general industry outlook," it says. "Emirates and Dnata continue to look at every means to protect its skilled workforce, including participating in job-saver programmes where these exist."