Turkish budget carrier Pegasus expects its operations to be cash-positive during the second half of 2021, as it reports an "encouraging recovery in demand" in domestic markets in particular.
"Forward ticket sales gained pace in June and are foreseen to further support cash reserves in the third quarter," the Istanbul-based carrier states in its second-quarter 2021 earnings presentation on 17 August.
Yields, however, are still "notably low" compared with pre-Covid levels, Pegasus observes. While second-quarter available seat kilometres (ASKs) and passenger numbers were 58% and 49% of 2019 levels respectively, revenues were at just 40%.
Historically, international services have tended to account for double the revenue of domestic markets for Pegasus, but travel restrictions are weighing on opportunities to serve overseas markets. Domestic ASKs were at 84% of pre-crisis levels during the second quarter, versus international at just 47%, on load factors of 76% and 64% respectively.
In the third quarter, Pegasus expects to operate 90% of pre-crisis capacity on an ASK basis, followed by 80-85% in the final three months of the year.
In June and July, Pegasus' domestic capacity measured in ASKs was ahead of 2019 levels, it notes, amid a slower recovery in international markets. Since reporting its second-quarter results, Pegasus says its July domestic passenger numbers exceeded pre-crisis levels by 3%, having been 9% down in June. International passenger numbers were 33% down in July – a signficant improvement on 57% deficit in June.
Further ahead, its base-case scenario is exceeding 2019 capacity on both international and domestic services in the next 12 months, although Pegasus notes significant uncertainty over the future path of the pandemic.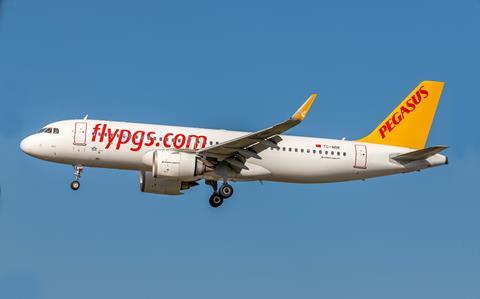 Overall, Pegasus' second-quarter revenue of €155 million ($181 million) was up significantly from €22 million in the same period of 2020 – when aircraft around the world were grounded during the first wave of Covid-19. In 2019, however, Pegasus reported revenue of €407 million.
A 45% reduction in personnel costs during the second quarter contributed to an overall 39% drop in costs versus the same period of 2019.
A positive EBITDA of €14 million follows a loss of the same amount in 2020 and a €131 million profit in 2019, while the carrier recorded a €65 million net loss for the period, almost halving the €120 million loss it saw in 2020.
Pegasus says its total cash reserves were at €701 million at the end of June – up from €426 million at the end of 2020. Cash burn in the second quarter was at €10 million per month, it states, lower than the €17 million per month seen during the first quarter.
The carrier says it is "maintaining a comfortable liquidity position through low cash burn and new funding sources".