Canada Jetlines, which has promised to launch a low-cost airline for years, is now setting its sights on beginning flights by the second quarter of 2022.
The Vancouver-based company, which has gone through numerous top management changes since coming onto the scene in 2015, says on 9 December that it has identified its first aircraft, a used Airbus A320.
That aircraft is scheduled to go into the paint shop on 18 December. Its interior will be refurbished in January before the jet arrives in Canada in February, executives say.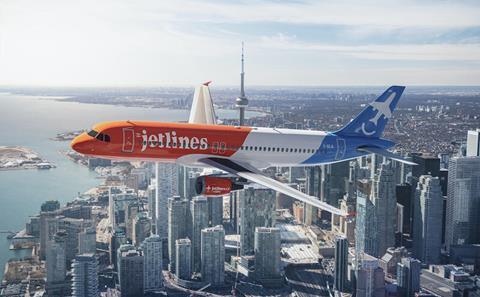 The pandemic has created "a rare opportunity" to start a new airline, says chief executive Eddy Doyle. While fixed costs have remained stable, aircraft are much cheaper than they were two years ago.
"So many airplanes are available in the market so that it provides great opportunities," he says.
Chairman of the board Ryan Goepel adds, "The only real differentiation you can get is what you acquire your aircraft at. We are getting the rates 50% of what they were pre-Covid. That builds a sustainable advantage."
Jetlines says it hopes to get two more A320s by July 2022, three more by June 2023 and five more by June 2024. In mid-2025 the airline aims to have a fleet of 15 aircraft. They will all be configured in a single class, with 180 seats.
The company's growth plan outlines a strategy which includes flights from Toronto to Canadian destinations, Mexico, the USA and the Caribbean in 2022, then expanding to offer direct flights to the Caribbean from Atlantic Canada in 2023, and entering the western Canada leisure market in 2024.
At the moment, however, Jetlines' website says it is "getting ready to serve the flying public", adding, "expect news in early 2022".
The airline's management team is adamant that Jetlines, while looking to offer competitive fares compared to current players in the Canadian market, will not call itself a low-cost carrier (LCC) or an ultra-low-cost carrier (ULCC). Chief commercial officer Duncan Bureau says Jetlines "will take advantage of a low-cost structure", without elaborating.
"We will price our product competitively. We are not an LCC, we are not an ULCC – that's not our business model. We will not be leading the race to the bottom," he says.
But before the airline gets airborne it needs to pass regulatory hurdles.
Jetlines says it has submitted a business plan, start-up cost statement and other documents to the Canadian Transportation Agency (CTA), and says approval of the plan is "imminent". Following that, it will need to submit proof of adequate funding. It has also applied for an air operator certificate, and expects to receive that by March 2022.
The company is targeting first flights with its own aircraft in the second quarter of 2022 but says it will charter aircraft from a sister carrier, US-based Global Crossing Airlines, one month earlier. It will operate direct connections between Toronto and Miami and Fort Lauderdale, popular winter destinations for Canadians, on weekends. Those flights are set to begin on 4 March, and run for six weeks through 17 April 2022.
Global Crossing, also known as GlobalX, spun off Jetlines earlier this year and still holds a stake in the carrier.
"We are finalising the details and expect to be in a position to start selling tickets in December," the company says. Jetlines will take over the route when it receives US Department of Transportation approval.
"The way we are starting the airline is as a charter operator, we plan to operate in Florida in a high demand period," Bureau says, adding that Jetlines' distribution model will rely on tour operators to sell blocks of tickets.
Jetlines is the second Canadian low-cost carrier in as many months to announce a launch of flight operations. On 17 November, Calgary-based Lynx Air said it will begin flying with three Boeing 737 Max 8 in the first quarter of 2022 and hopes to grow to 46 jets in seven years. Those aircraft will have a single-class configuration, with 189 seats.
Story corrected on 17 December to note that Jetlines on 9 December said it had identified its first aircraft. The company says it will receive its first aircraft in February 2022.