Philippine Airlines (PAL) has emerged from Chapter 11 bankruptcy protection after a four-month process, and has set it sights on growing its fledging cargo business and digital initiatives.
PAL, which first filed for Chapter 11 in New York in early September, also hinted at "new product advancements…to upgrade services and the overall customer travel experience" in the year, but did not elaborate further.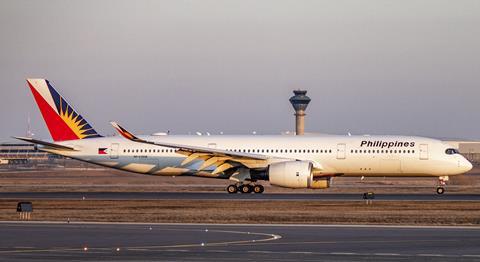 As part of its recovery plan — first approved by the US courts in December — the airline was able to shave of over $2 billion in debt and gain access to $505 million in equity and debt financing from its major shareholder.
The recovery plan gained unanimous support from lessors, lenders, aircraft manufacturers, and MRO providers, says PAL.
The Philippine flag carrier says in a 31 December, 2021 statement that it will "tap more air cargo market opportunities" through its new cargo unit, "including the operation of all-cargo flights to keep supply chains moving and to meet specific freight transport needs such as the airlift of vaccines and medical equipment".
On the network front, PAL says it expects to restore more international routes as borders reopen around the world. These include flying to Mainland China, operating scheduled flights to Australia, as well as new services to Israel.
The carrier also hopes to "accelerate digital transformation initiatives" on its web and mobile applications, as well as booking processes.
It states: "PAL has streamlined operations with a reorganised fleet and is now better capitalized for future growth."
PAL and other Asia-Pacific airlines have been heavily impacted by the coronavirus pandemic, which has all but entirely shut down air traffic in the region.
In the quarter ended 30 September, PAL parent company PAL Holdings narrowed its pre-tax losses to Ps5 billion ($100 million) from Ps7.8 billion a year earlier, as it reported stronger revenue.
Revenue grew 64.7% to Ps14 billion, with both passenger and cargo showing a strong year on year performance.