The Philippine government is set to limit passenger arrivals to the country's main international gateway for one month, as part of restrictions to clamp down on a spike of Covid-19 infections that began early this month.
Authorities will impose a cap of 1,500 passenger arrivals per day on international flights to Manila's Ninoy Aquino International Airport from 08:00 (local time) on 18 March to 08:00 (local time) on 19 April, for all airlines combined, according to 17 March announcements from local carriers Philippine Airlines and Cebu Pacific.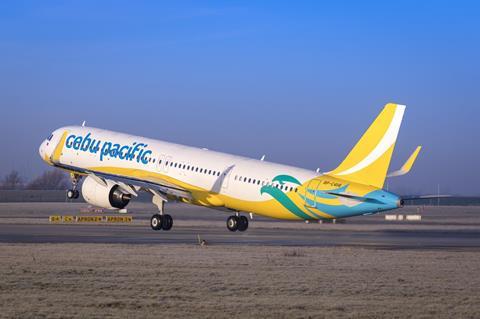 It will also temporarily close its borders to all foreigners arriving to the country and allow entry only for returning citizens and emergency cases from 20 March until 19 April.
Cirium data shows that the number of daily seats on international flights to Ninoy Aquino International Airport from January to March remained relatively stable, averaging between about 4,000 to 5,000 seats across the top five airlines.
With the latest restrictions, airlines are expected to cancel a sizable proportion of international flights to and from Manila over the one-month period.
Flag carrier Philippine Airlines says it expects to operate its full international schedule for 18 March, but will announce any upcoming flight cancellations for the period "in due course", according to a 16 March statement.
"Airlines will likewise comply with any directives from the Philippine Bureau of Immigration (BI) and concerned authorities on the type of travellers that will be allowed entry into the Philippines within the same 18 March (8 AM) to 19 April (8 AM) period," the airline added.
Low-cost compatriot Cebu Pacific says it will be cancelling its two services to Tokyo's Narita and Nagoya for the period.
"We continue to work closely with the various government authorities and will provide updates as necessary," it adds.
The country recorded nearly 20,000 confirmed cases of Covid-19 in total over the past four days, according to figures from the World Health Organization. Officials have attributed the spike to the easing of some mobility restrictions to enable people to return to work and revive the economy.
On 17 March, Philippines' health secretary Francisco Duque warned of a possible wider lockdown across the country if the spike in Covid-19 cases continues, according to a same-day Reuters report.