Pakistan International Airlines (PIA) is in talks to settle out of court $2 million in outstanding aircraft lease payments in relation to two Boeing 777s managed by AerCap.
Cirium fleets data shows that AerCap manages two 777-200ERs operated by PIA, and the lease on MSNs 32716 and 32717 commenced in 2015. Ireland-based Peregrine Aviation Charlie is the registered owner of both aircraft.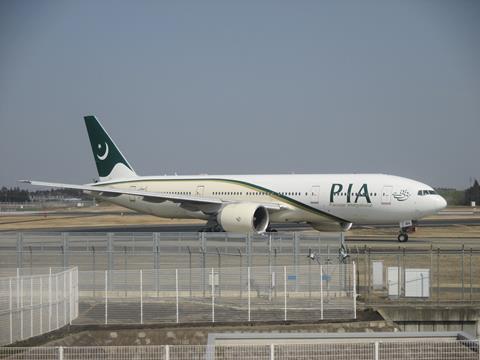 At a 22 January court hearing in the High Court of London, the airline said it has paid around $7 million, but $2 million in relation to maintenance reserves remains in dispute.
The parties have an agreement for $580,000 in monthly lease rentals and $315,000 per month for maintenance reserves, English-language local newspaper Dawn reported on 24 January.
PIA is arguing that maintenance costs should not be invoiced, as the two aircraft were not in use for six months due to the Covid-19 pandemic. It reasons that maintenance reserves should be calculated according to flight cycles.
The lessor takes the view that the contract's force majeure clause does not cover the pandemic, and that the airline must pay regardless of how much the aircraft are flown.
The hearing was adjourned on the same day, as both parties are seeking to settle the issue out of court, according to the same report.
Earlier, Malaysian authorities seized a PIA-operated 777-200ER aircraft at Kuala Lumpur on 15 January, pertaining to a UK court order. According to a same-day Reuters report, PIA said that this was in relation to a $14 million aircraft lease dispute.
PIA also stated in a Twitter post that day, "A PIA aircraft has been held back by a local court in Malaysia taking one sided decision pertaining to a legal dispute between PIA and another party pending in a UK court."
It adds: "It is an unacceptable situation and PIA has engaged the support from Government of Pakistan to take up this matter using diplomatic channels."
According to Cirium fleets data, PIA has a fleet of 31 aircraft, of which 13 are currently in storage, including the two 15-year-old 777-200ERs managed by AerCap. The airline also has five aircraft on order, all 777-300s.
In 2017, AerCap sold a portfolio of 21 aircraft worth $800 million to Peregrine Aviation, an investment entity established by Saudi asset manager NCB Capital.