The union representing Allegiant Air's pilots has come out against the carrier's proposed joint business with Mexico's Viva Aerobus, alleging that it is simply seeking access to cheaper flightcrew.
Another Mexican airline, Volaris, has also raised concern about the planned Allegiant-Viva partnership.
"We vigorously oppose the joint venture between Viva Aerobus and Allegiant Air, and oppose granting Allegiant's request for anti-trust immunity by the DoT," pilot union International Brotherhood of Teamsters says in a letter to Department of Transportation secretary Pete Buttigieg.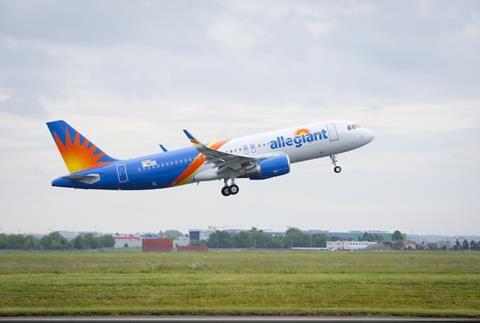 "We are currently in the middle of negotiations with the management of Allegiant Air, who are steadfastly unwilling to agree to anything close to industry standard work rules, benefits and compensation commensurate to our peers," it adds.
The letter is not dated but it was released by the DoT on 3 February. The Teamsters union represents some 1,150 Allegiant pilots.
"We are convinced that the intention is to replace American airline pilot jobs with those of Mexican pilots, whose salaries are approximately five to six times lower than our members' negotiated salaries," the union says.
Neither Las Vegas-based Allegiant nor the DoT responded immediately to requests for comment.
Allegiant and Viva in December 2021 proposed to the DoT forming a joint business that would involve coordinating schedules, selling seats on each others' flights and sharing revenue.
The airlines previously said they aimed to achieve regulatory approval in time to implement the partnership in the first quarter of this year. Mexico's anti-trust authority approved the joint business in October 2022.
In a 2 February filing with the DoT, Viva's competitor Volaris also voiced opposition, saying the agency should deny the anti-trust immunity request – or at least defer a decision.
Volaris says the "openness" of the Mexican air travel market is uncertain due to factors including Mexico City airport issues and Mexico's degraded aviation safety rating.
At Mexico City International airport, airlines have been subject to capacity restrictions, and Mexican authorities seem intent on forcing passenger airlines to move operations from that airport to the new Felipe Angeles International airport, which also serves the Mexico City region.
Also, the US Federal Aviation Administration has maintained a reduced, "Category 2" safety rating for Mexico's government – a designation that limits the ability for Mexican airlines to launch new US flights, Volaris notes.
Viva Aerobus is based near Monterrey. Both it and Allegiant operate Airbus A320-family jets.