Canada's Porter Airlines has once again delayed resuming flights, and is now targeting a date more than one year after it shut down due to the global coronavirus crisis.
The regional carrier, based in Toronto, has repeatedly pushed back its restart after halting operations on 21 March 2020. It now says that it will once again begin flying on 29 March. The new delay raises questions in the industry as to whether the airline will come back at all.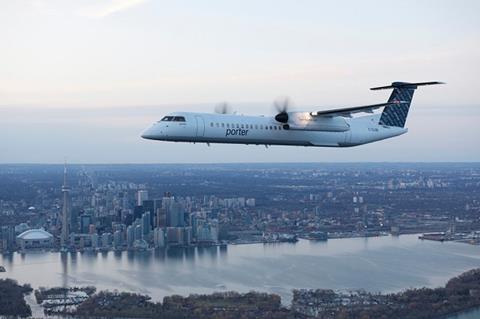 "We want to see our planes in the sky as soon as possible and are actively working to prepare for our resumption of service," the airline writes on 11 January. "However, the ongoing uncertainty presented by government travel restrictions, including border closures, is impacting our ability to operate flights."
Last week the Canadian government imposed new restrictions on travellers arriving from outside of the country. In addition to a mandatory national 14-day quarantine that has been in effect for almost 10 months, Canada now requires all inbound passengers to present a negative coronavirus test that is less than three days old.
But even with a negative test, arriving passengers must still isolate for two weeks or risk hefty fines or up to six months in jail.
Some individual provinces also have distinct isolation requirements, adding complexity to domestic Canadian travel.
In addition, the border to the United States has been effectively sealed to non-essential travel since 21 March. A reopening of the frontier has been repeatedly pushed back, and is now scheduled for 21 January. But rising virus case counts in both countries may lead to yet another extension of that order.
Canadian airlines have heavily criticised their government's the new testing measure. Announcement of the requirement "occurred without prior coordination with industry" and left airlines scrambling to implement the order, trade group National Airlines Council of Canada said last week.
The carriers have cut thousands of jobs in recent months. The industry has attributed the cuts partly to the Canadian government's requirements, coupled with a lack of industry-specific financial aid. Last week Calgary-based WestJet laid off another 1,000 employees, about one-third of its remaining staff, and once again cut its capacity in response to the new restrictions.
The restrictions, the company's chief executive said at the time, are causing travellers "stress and confusion and may make travel unaffordable, infeasible and inaccessible for Canadians for years to come".
On 3 January, international airlines trade group IATA voiced "deep frustration" with Canada's additional coronavirus testing burden, calling the requirement "callous and impractical"
Porter has a fleet of 29 De Havilland Canada Dash 8-400 aircraft, with orders for 12 Airbus A220 aircraft, according to Cirium fleets data. It serves destinations in eastern Canada and the northeast USA.