Canadian regional carrier Porter Airlines is expanding with a C$65 million ($48.2 million) facilities upgrade at Ottawa International airport.
Porter and the Ottawa International Airport Authority are building two airport hangars covering about 13,935sq m (150,000sq ft) to accommodate the carrier's growing fleet of new Embraer E195-E2s and older De Havilland Dash 8-400 turboprops, the airline said on 1 November.
The airline is eyeing a significant North American expansion with up to 100 E195-E2s on order, in addition to its 29 Dash 8-400s.
"Porter's imminent introduction of the E195-E2 to its fleet provides the ability to operate throughout North America, including to the west coast, southern US, Mexico and the Caribbean," the airline says.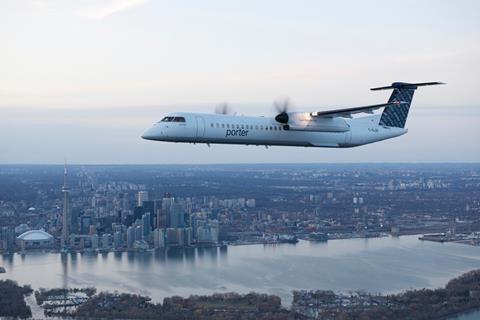 Based at Toronto's secondary airport Billy Bishop Toronto City, Porter will make Ottawa its maintenance centre for the Embraer airframes and hire some 200 local employees. Meanwhile, the project will support about 150 construction jobs, the company says.
The hangars are scheduled to be completed in the first quarter of 2024 and will be supported by a predominantly electric fleet of vehicles for towing and serving aircraft.
As part of the project, the Ottawa International Airport Authority will construct a $15 million taxiway in the airport's north field area as well as related infrastructure. The taxiway is designed to support the hangar development project as well as federal government needs, and possibly further commercial development.
"Ottawa has been a critical location for Porter throughout our history and the multi-million dollar facilities we're building to maintain aircraft here is only the latest example of our desire to meaningfully invest in Canada's capital region," says Michael Deluce, Porter's chief executive.
"We anticipate our presence in Ottawa will grow in the coming years, supported by the maintenance base and future aircraft deliveries that give us the ability to consider new routes," he adds.