Hainan Airlines, which earlier this month completed a business reorganisation, has forecast a return to profitability for 2021.
The Chinese carrier expects to report a full-year net profit of between CNY4.5 and 6.2 billion ($956-$974 million), reversing the record net loss of CNY64 billion it posted in 2020.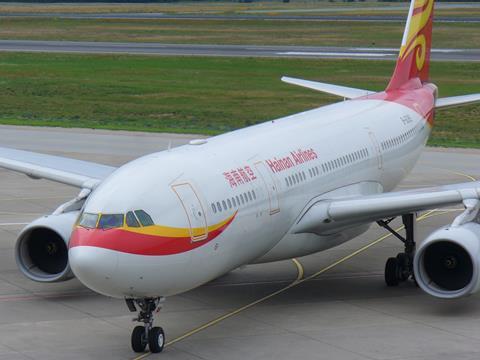 In a 28 January filing, Hainan says revenue for the full year is expected to fall between CNY33.6 and 34.3 billion, slightly higher than the CNY29.4 billion revenue reported in 2020.
The disclosure marks a turnaround for the beleaguered carrier, which plunged to its worst-ever financial performance amid the coronavirus pandemic.
It was also saddled with liquidity and debt problems linked to its parent company HNA Group.
In early December, HNA Group — itself placed under a creditor-led bankruptcy filing — transferred management of its core airline businesses, which includes Hainan Airlines, to strategic investor Liaoning Fangda Group Industrial.
Liaoning Fangda was selected in September as the embattled group's strategic investor, paving for it to be the controlling shareholder of HNA's aviation businesses.