Qantas has forecast that an underlying loss for the six months to 31 December in excess of A$1.1 billion ($787 million), reflecting the substantial impact from long-drawn domestic lockdowns and travel restrictions.
In a market update released 16 December, the Australian carrier says that a pick-up in travel demand in recent weeks — as well as strong performance from its cargo and loyalty units — have helped offset any steeper losses.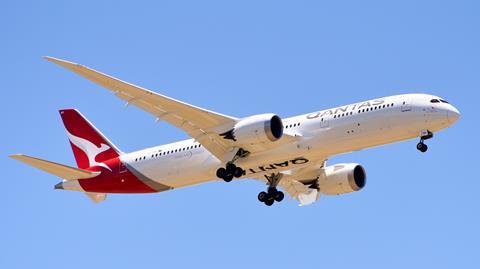 The Australian states of New South Wales and Victoria entered strict lockdown since June, amid a surge in infections caused by the more infectious Delta variant of the coronavirus.
Domestic border closures led to capacity to plunge to a low of just 30% pre-pandemic levels, says Qantas group chief Alan Joyce, which called the period "one of the worst halves of the entire pandemic".
Still, the Oneworld carrier points out that it has made inroads in improving its balance sheet, by reducing its debt and shoring up liquidity.
By end-December, the carrier expects to cut its net debt to around A$5.7 billion, thanks to a multi-million land sale deal, as well as strong forward bookings. In contrast, it disclosed a debt position of A$5.9 billion as at 30 June.
Qantas also forecasts liquidity to be around A$4.2 billion by the end of the year, including around A$2.6 billion in cash and cash equivalents.
The airline adds that its freight unit, which recently announced the addition of two converted Airbus A330s to its fleet, "is on track to deliver record earnings" for the six-month period.
"While yields are expected to ease as more international passenger flights return, domestic freight demand is expected to remain strong through a structural expansion of e-commerce," states Qantas.
The carrier reported an underlying loss before tax of A$1.83 billion for the year to 30 June, as the pandemic wiped out A$12 billion in revenue for the year.