Qantas swung to an underlying loss before tax of A$1.03 billion for the six months ended 31 December 2020, as the carrier continued to suffer from the collapse in air traffic amid the coronavirus pandemic.
This compares with an underlying profit before tax of A$771 million recorded in the previous corresponding period, according to the airline's interim results for its 2021 financial year.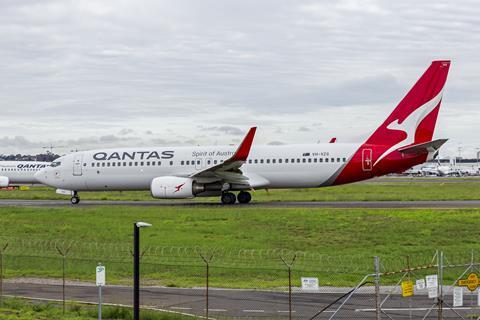 "These figures are stark, but they won't come as a surprise," says chief executive Alan Joyce.
"Just consider the trading conditions we had to deal with in the first half. Border closures meant we lost virtually 100% of our international flying and 70% of our domestic flying. Three quarters of our revenue – around A$7 billion – went with it."
Revenue for the period plunged 75.4% to A$2.3 billion, compared with A$9.5 billion a year earlier.
Cash and cash equivalents as of 31 December stood at A$2.6 billion. This was down from A$3.5 billion as of 30 June, but higher than A$1.67 billion at the end of 2019.
TOUGH TIMES AT DOMESTIC, INTERNATIONAL UNITS
As for individual units, Qantas Domestic generated revenue of A$1 billion, a third of its revenue for the first half of the previous financial year. Domestic ASKs declined by two thirds, and passenger load factor fell 21.8 percentage points to 58.1%.
Qantas International fared even worse, with interim revenue plunging to A$722 million from A$3.8 billion a year earlier. International ASKs collapsed, and passenger load factors declined 60.7 percentage points to 25.8%.
"The [international] passenger business was largely grounded, except for a limited one-way travel bubble with New Zealand an Australian government sponsored chartered flights, bringing home thousands of Australians who were stranded overseas," says Qantas.
Low-cost unit Jetstar saw first half revenues decline 81.9% to A$384 million. ASKs fell nearly 90%, while the passenger load factor declined 16.4 percentage points to 70.5%.
Jetstar's international operations, as well as its New Zealand and Singapore units, were largely grounded during the last six months of 2020. Singapore-based Jetstar Asia is cutting its fleet to 13 from 18 aircraft by returning leased jets and transferring aircraft to Australia. This has seen staff cuts of 25%.
"The previously announced exit of Jetstar Pacific is well advanced, with commercial functions transitioned and rebranding to Pacific Airlines and reservation system cutover completed," adds Qantas.
"Qantas Group shares in Pacific Airlines will transition to Vietnam Airlines, awaiting regulatory approval."
FREIGHT IMPROVEMENT
Perhaps the only bright spot in Qantas' results was net freight revenue, which rose 23.6% to A$613 million.
As for its fleet, the mainline carrier had 221 aircraft as of 31 December, the same number as at 30 June. The number reflects the retirement of four Boeing 747-400s and the induction of four Airbus A320s.
The airline's maindeck freighter fleet rose by one aircraft to seven, with the addition of a single A321P2F.
Jetstar Group had 83 aircraft at the end of year, compared with 87 at 30 June.
Joyce also recognised the importance of government programmes to support jobs, reduce aviation charges, and keep regional and freight routes open.
"At the same time as managing the daily realities of this pandemic, we've also redesigned our business," he adds.
"These changes mean the Qantas Group of 2021 will be able to repair itself much faster than a pre-Covid Qantas Group could."