Qantas has upgraded its profit forecast for the first half of its 2023 financial year – on the back of "continued strength" in travel demand, especially on its domestic network.
For the six months to 31 December, the Australian airline group now expects an underlying profit in the range of A$1.35-1.45 billion ($897-964 million). It compares to the A$1.2-1.3 billion underlying profit forecast disclosed in October.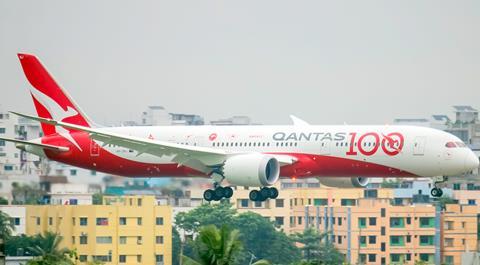 "Consumers continue to put a high priority on travel ahead of other spending categories and there are signs that limits on international capacity are driving more domestic leisure demand, benefiting Australian tourism," the airline states.
Qantas previously forecast domestic capacity to rise to pre-pandemic levels by the second half of the 2023 financial year, with international capacity hitting about 77%.
The revised profit forecast also comes as the airline reports its highest-ever fuel expenses, at A$5 billion for year to 30 June 2023. Qantas notes it is a "record high" despite international capacity at 70% of pre-pandemic levels.
Qantas has also cut its net debt forecast to around A$2.3-2.5 billion by 31 December. It is an improvement of around A$900 million compared to the October earnings update, and is due mainly to the "acceleration of revenue inflows" as bookings increase, as well as the deferral of capital expenditure during the period.
The airline reported a staggering A$1 billion loss in the six months to 31 December 2021, when the air travel sector was still grappling with the coronavirus pandemic