Qatar Airways is in talks to acquire a 49% stake in state-owned RwandAir and is "keen to invest" in Indian low-cost carrier IndiGo when the time is right, the Gulf carrier's chief executive Akbar Al Baker disclosed today.
During an appearance at the CAPA Qatar Aviation Aeropolitical and Regulatory Summit in Doha, livestreamed via Qatar Airways' Twitter account, Al Baker revealed that the Oneworld member was "negotiating" for a 49% stake in the Kigali-based Rwandan flag carrier. He says RwandAir is attractive because of its "location, the stability of the country, and the very favourable business environment that exists in that country".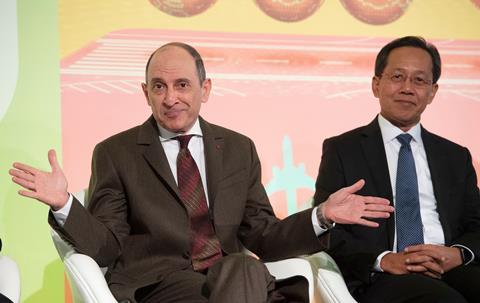 The announcement follows an agreement signed by Qatar Airways in December to take a 60% stake in the new Kigali airport, which Al Baker says will have capacity for 10 million passengers.
"In Africa there is a big demand for air travel and today Africa is very poorly connected, so we always look at opportunities in our field to do investments similar to what we have done in the past," adds Al Baker.
Cirium fleets data shows that RwandAir operates 12 aircraft, comprising four Boeing 737-800s, two 737-700s, two Airbus A330s, two Bombardier CRJ900s and two Q400s. The carrier serves destinations across central, eastern and southern Africa, as well as points in Europe, the Indian subcontinent and the United Arab Emirates.
Al Baker also emphasised his interest in investing in IndiGo, describing it as "the only airline that we're very keen to invest in in India, once the atmosphere exists that we could invest and be able to benefit from the synergies that these two airlines, Qatar Airways and IndiGo, will provide".
He credits IndiGo with being "very efficiently run" and "very profitable", but points to "shareholder conflict" at the Indian airline and says Qatar is "waiting for the right opportunity" to make an approach.
Last month, shareholders in IndiGo's parent company voted against a proposal to lift restrictions around the sale and acquisition of shares