Restructured low-cost carrier Norwegian ended 2021 operating an average of 48 aircraft during December, though its passenger numbers for the full-year remained below even 2020 levels.
Norwegian, which has undertaken a major restructuring including ending its long-haul operations and during which it entered what it dubbed a "hibernation mode", had gradually stepped up its activity over the second half of the year. On average, it operated just under 50 aircraft during the fourth quarter of the year, compared with just 15 aircraft deployed in June.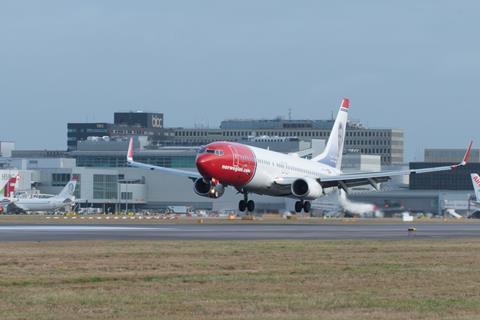 The airline carried 930,000 passengers in December. While this far exceeded December 2020 levels, when it was operating minimal capacity, it does represent a drop on the the more than a million passenger it flew in both October and November. That reflects the the impact of fresh travel restrictions imposed following the emergence of the Omicron coronavirus variant.
Norwegian chief executive Geir Karlsen says: "I am pleased that we have efficiently balanced the planning and implementation of our route network and production for December. Lower demand was factored into our schedules during Christmas and the New Year weekend, therefore I am pleased to report that load factors are good for December as well."
Norwegian recorded a load factor of 71.3% for December. That figure though is five points down on November load factor of 76.6%. European low-cost operators Ryanair and Wizz Air have also disclosed similar drop in load factors between November and December as a result of travel restrictions.
For the full-year Norwegian carried 6.1 million passengers, a 10% reduction on the 6.9 million the airline flew in pandemic-hit 2020. The carrier's traffic and capacity was down by half on 2020 levels, though that in part reflects the inclusion of long-haul operations in the first quarter of 2020.
Prior to the crisis Norwegian flew a peak of 37.3 million passengers in 2018. This though had already slipped to 36.2 million in 2019 as it had begun cutting back capacity as part of bid for profitability even before the pandemic hit.
Norwegian had a fleet of 156 aircraft at the end of 2019, although that included a dozen Boeing 737 Max aircraft that were grounded at the time. After scaling back its fleet and cancelling outstanding order commitments during its restructuring, Norwegian emerged as a 737-800 operator only. It had a fleet of 51 aircraft the end of September 2021 but has outlined plans to lease more aircraft for next summer – including in December sealing a lease of two 737 Max 8 aircraft.