Air Canada's revenue more than doubled compared with its third quarter of 2021 results, but the flag carrier still lost C$508 million ($373 million) in the three months ending 30 September.
For perspective, the airline lost C$640 million in third quarter of 2021, which was impacted by the Delta variant of Covid-19 and Canada's tight travel restrictions.
Chief executive Michael Rousseau acknowledged a "difficult June and July" during Air Canada's third-quarter earnings call on 28 October, but said the airline has been on an upward trajectory and is now operating at "pre-pandemic levels".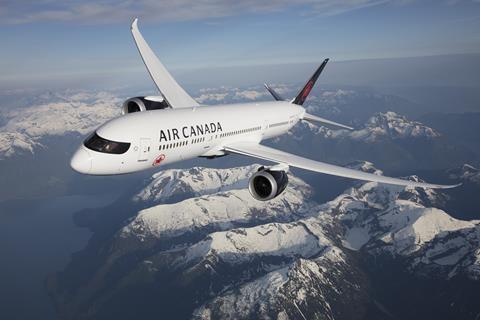 "Air Canada's solid third-quarter results stem from the ongoing restoration of our extensive network, an improved operational performance, our modern and efficient fleet, as well as leading products and services, and an incredible team of employees," he says. "This was the first quarter since the pandemic began in which we delivered positive operating income."
Operating revenue in Air Canada's third quarter reached C$5.3 billion, more than double the C$2.1 billion during the same three months of last year. In the third quarter of 2020, the airline posted revenue of C$757 million.
Canada dropped its travel restrictions for Covid-19 in September, following a chaotic summer riddled with airline delays and cancellations related to staffing shortages.
"We are further encouraged by continuing strong demand, now further stimulated by the easing of Covid-related restrictions," Rousseau says. "Advance ticket sales in the quarter were at 95% of third-quarter 2019 levels."
Operating capacity – measured by available seat miles – more than doubled over the third quarter of 2021 and reached 79% of its pre-pandemic levels, the airline says.
As of 30 September, Air Canada's unrestricted liquidity – including cash, cash equivalents, investments and credit facilities – was C$10.2 billion, down from C$14.4 billion on the same date in 2021.