Australia's Regional Express (Rex) has reported its first profitable month of domestic jet operations in September.
The airline, which did not specify a profit figure, launched domestic jet operations using Boeing 737-800s in March 2021, though Covid travel restrictions limited full operations until this year.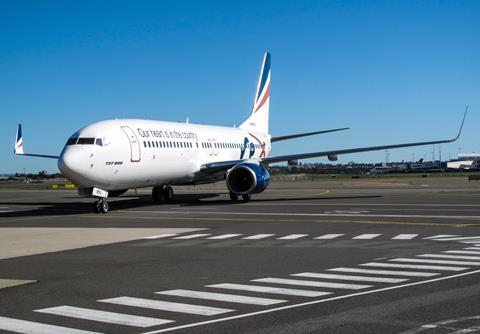 Rex executive chairman, Lim Kim Hai, says: "Rex's domestic jet operations only properly started in the month of February this year because of the shutdowns in 2021 due to Covid. To turn in a profit so soon after the restart of operations is truly unprecedented in the airline world."
While airline losses widened in the year end 30 June 2022, Rex had said it was "cautiously optimistic" of returning to profitability this year.
Lim points to a strong pick-up in traffic over the past quarter. "Our domestic jet network passenger numbers for the first three months of this financial year grew by 60%, 34% and 77%, respectively, when compared to June 2022," he says. "Revenue growth has been even stronger at 84%, 47%, and 137% for the same three months, suggesting significant yield improvements.
"The board gave guidance on 2 August 2022 that it expected FY2023 to be profitable overall and the current results have further strengthened its conviction. Encouragingly, October 2022 appears to be even stronger than September 2022."
Lim adds that in response to the strong demand Rex is "actively looking" for another two 737-800s to expand its domestic jet operations. Cirium fleets data shows Rex has seven 737-800s in service and Lim told FlightGlobal in August the carrier was in talks with lessors over two additional Boeing jets.