Australia's Regional Express has reported a profit increase for domestic jet operations, as it expects its regional operations to turn profitable imminently.
Rex says its jet operations are expected to report a pre-tax profit of around A$2.8 million ($1.94 million) for November, according to unaudited accounts.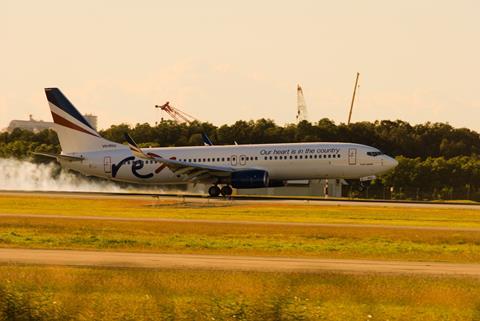 "This makes November the third consecutive month that the domestic jet operations have been overall profitable," the carrier adds in a 11 January statement.
Rex operates a fleet of seven Boeing 737-800s, flying domestic trunk routes on Australia's east coast.
The disclosure comes as Rex prepares to mark its full year of jet operations. The airline first launched jet operations in March 2021, but a series of lockdowns in parts of Australia forced the airline to suspend them.
As for its regional operations, Rex says it is making a pre-tax of loss of less than A$200,000, but that operations remain cash-flow positive. The airline, which operates 61 Saab 340s, again blamed arch-rival Qantas - and its "predatory actions" in the regional market - for the loss forecast.
"The company believes that the regional Saab operations will return to monthly overall profitability in the current quarter," states Rex.
It reiterates its previous forecast that it will return to profitability for the current financial year, which ends 30 June.
At the release of its financial results for the year to 30 June, where it widened its losses, Rex had said it was "cautiously optimistic" of returning to profitability in the current financial year.