IATA director general Willie Walsh had more reason than most to be surprised by JetBlue Airways' bid for Spirit Airlines this week, coming as it did after he shared several hours with the suitor's chief executive Robin Hayes days earlier.
"I had dinner with Robin Hayes last Thursday night and was with him for most of Friday," Walsh states during an IATA media briefing today. "I wouldn't have expected Robin to say anything but there was no hint of anything happening there."
Alongside leading JetBlue, Hayes has served as chair of IATA's board of governors since November 2020 – an extra-long stint caused by Covid-related disruption to the association's governance cycle.
Walsh describes JetBlue's unsolicited move – which now rivals an earlier agreement for Spirit to merge with Frontier Airlines – as evidence of the US airline industry's financial strength coming out of the Covid-19 crisis.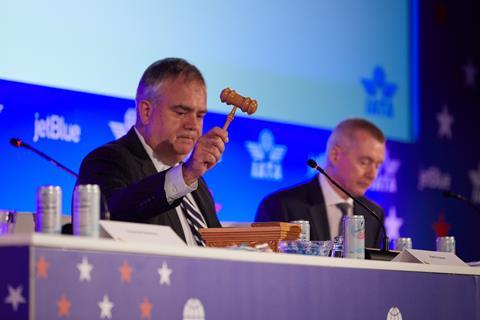 "The government recognised the strategic importance of the air transport industry in the US and did everything that was required, and more, to ensure the industry would not suffer as a result of the pandemic," he states.
"When you look at the financial health of the US airlines, it clearly does stand out at the moment," Walsh continues. "It's no great surprise to see the possibility of consolidation taking place."
Moreover, consolidation activity in the USA over the past 15 years or so means "it's the one market where you can clearly see the benefit for consumers" of airlines joining forces, Walsh suggests, including through ever-widening domestic and international networks and carriers that operate from a position of financial strength.
"We'll watch with great interest what happens there," he says of the rival approaches for Spirit.