JetBlue Airways has made an unsolicited bid to purchase all of Spirit Airlines' outstanding stock in an all-cash transaction, throwing into doubt Spirit's $6.6 billion planned merger with Frontier Airlines.
Miramar, Florida-based Spirit confirms the bid on 5 April.
Spirit says New York-headquartered JetBlue offered $33 per share of Spirit stock, or $3.6 billion – an almost 30% premium on the price ultra-low-cost rival Frontier Airlines offered for Spirit less than two months ago.
The price of Spirit shares jumped more than 22%, to $26.92, on 5 April after news of the bid leaked. Trading was halted just before the market closed.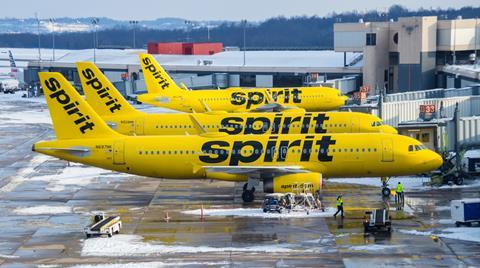 "Consistent with its fiduciary duties, the Spirit board of directors will work with its financial and legal advisers to evaluate JetBlue's proposal and pursue the course of action it determines to be in the best interests of Spirit and its stockholders," Spirit says. "The board will conduct this evaluation in accordance with the terms of the company's merger agreement with Frontier and respond in due course. Spirit shareholders do not need to take any action at this time."
JetBlue says the combination of the two airlines "would position JetBlue as the most-compelling national low-fare challenger to the four large dominant US carriers by accelerating JetBlue's growth".
"Customers shouldn't have to choose between a low fare and a great experience, and JetBlue has shown it's possible to have both," says JetBlue chief executive Robin Hayes. "When we grow and introduce our unique value proposition onto new routes, legacy carriers lower their fares and customers win with more choice."
"The combination of JetBlue and Spirit – coupled with the incredible benefits of our Northeast Alliance with American Airlines – would be a game changer in our ability to deliver superior value on a national scale to customers, crew members, communities and shareholders," he adds. "The transaction would accelerate our strategic growth and create sustained, long-term value for the stakeholders in both companies."
A request for comment from Denver-headquartered Frontier was not immediately answered.
On 7 February, ultra low-cost rivals Spirit and Frontier said they were looking to join forces in a merger that was valued at $6.6 billion and promised combined annual revenue of $5.3 billion based on the airlines' respective 2021 financial results. The carriers said that, once integrated, they would be in a position to offer more than 1,000 daily flights to more than 145 destinations in 19 countries.
They said the deal, which was expected to close in the second half of 2022, would create 10,000 direct jobs by 2026 and deliver annual operating synergies worth up to $500 million.
Earlier on 5 April, JetBlue announced its pilots had come to an agreement that ends a year-long dispute over aspects of the carrier's "Northeast Alliance" (NEA) with American Airlines. The pilots, represented by the Air Line Pilots Association (ALPA), had charged that implementation of parts of the NEA violated their contract.
Out of nearly 90% of eligible pilots voting, 60% ratified the agreement.
JetBlue also announced new routes between Boston and London's Gatwick and Heathrow airports on 5 April. Those flights are slated to begin on 19 July and 22 August, respectively.