Low-cost operator Blue Air remains "cautiously optimistic" travel demand will return to at least pre-pandemic levels in April, after today outlining reduced capacity plans for the first two months of 2022.
The Romanian carrier says it is reducing operations in January and February in the context of the "new pandemic reality" caused by the Omicron variant.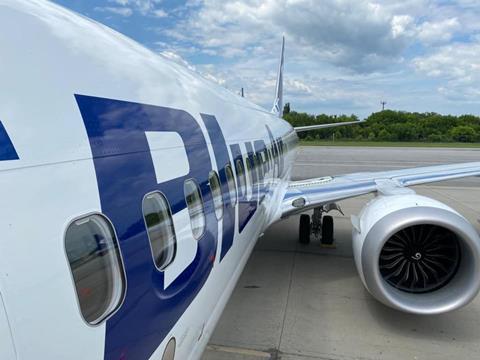 "Blue Air will be calibrating its flight programme by reducing its services to a minimum of operations until end of February 2022 and focusing on a strong summer 2022 Schedule with increased capacity, network expansion and a renewed fleet," the airline states.
Blue Air chief commercial officer Krassimir Tanev says: "We understand the impact this new pandemic wave has on our customers and on their near-term plans, so we have prepared a list of new initiatives to meet their needs." This includes a "120% fully automated refund to Blue Air wallet" for Omicron-driven cancellations made between 27-30 December for travel until end of March.
However, the airline says it is preparing for a "more secure travel environment" and appetite for Easter and Summer travel by strengthening its schedule from April.
"We remain cautiously optimistic that, as of April, the demand will not only go back to pre-Covid period, but even exceed the 2019 levels, so we are offering even more attractive Summer programme to our customers," says Tanev.
Blue Air has been working through a fleet renewal under which it has been phasing out its Boeing 737 Classics as it takes delivery of new Boeing 737 Max aircraft. The Romanian carrier took its first Max in April and Cirium fleets data shows it has five of the type in service and another five on order. The airline plans to focus its fleet on Max jets and its 737-700/800s.