European budget carrier Ryanair is putting its focus on meeting an uptick in summer travel as it sees demand until Christmas likely stifled by fresh travel restrictions.
Ryanair, which Eurocontrol data showed earlier in November surpassed pre-Covid flight activity for the first time since the pandemic, today disclosed it carried 10.2 million passengers for the month.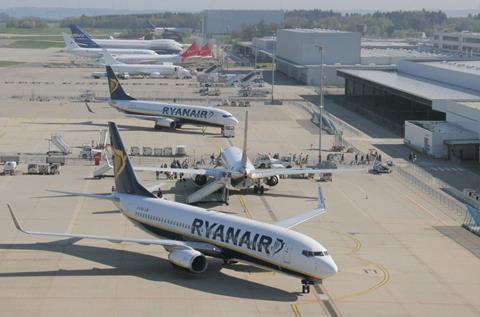 While down on the 11.2 million it flew in October, it marked a fourth consecutive month it in which passenger numbers topped 10 million. Ryanair's load factor of 86% in November was the highest it has recorded since the pandemic hit.
Speaking at the World Aviation Festival in London today, Eddie Wilson, chief executive of Ryanair's mainline operation, said: "November is a difficult month to get bookings at the best of times, but we had a load factor of 86% for November."
However, he acknowledges fresh travel restrictions and requirements imposed by governments in response to the discovery of the Omicron variant of coronavirus will impact demand in the short-term.
"We were hoping the demand curve would really get going in January of this year once we got through the Christmas period, but now that's been T-boned by the travel restrictions. But we are still optimistic about next summer.
"It's going to be challenging for Christmas as its not necessarily going to be price-led," he says, adding that people may feel pressure not to travel ahead of meeting up with older relatives over the holiday period.
"It's a bit of groundhog day again, so its just a question of when are the bookings going to start for next summer in earnest. That will be driven largely by [vaccination] booster campaigns."
Wilson says he thinks governments are reluctant to go back into lockdowns and is hopeful some of the new restrictions will be lifted when there is further analysis of the Omicron variant. "But we are not betting on that before Christmas and so …our focus is really on next summer. We are back over 100% [capacity], we keep everybody employed and be ready to take up the upswing in demand when it comes."