Europe's biggest budget operator Ryanair now expects to carry 225 million passengers by March 2026, an increase of 25 million on its previous expectations.
Outlining the increased target at its annual general meeting today, Ryanair said it now expects to grow traffic more rapidly over the coming five years as it believes delivery of the 210 Boeing 737 Max 8-200 aircraft it has on order will enable it to capitalise on post-Covid opportunities.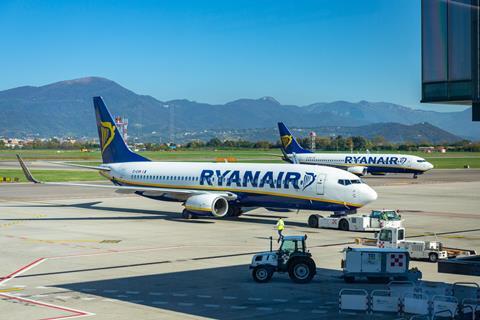 "These aircraft will deliver industry lowest costs, reduced emissions, and will enable Ryanair to accelerate its post-Covid growth, as opportunities open up at primary and secondary airports all over Europe, particularly where legacy carriers have failed or reduced fleet sizes as a result of Covid and state aid," the airline says.
As a result it has raised its five-year growth expectations from 33% to 50% from the baseline of its pre-Covid traffic figure of 149 million. It now aims to carry over 225 million passengers by March 2026, rather than the 200 million it had been targeting.
Ryanair this summer began taking delivering of its first 737 Max 8-200 after a two-year delay. "The performance of the 737 Gamechanger aircraft this summer has exceeded our expectations," says chief executive Michael O'Leary.
"With these new deliveries, Ryanair will open 10 new bases across Europe this year as we work with airport partners to help them recover traffic and jobs post-Covid, and take up slot opportunities that are being vacated by competitor airlines who have collapsed or significantly reduced their fleet sizes."
While Ryanair made a fresh commitment to the Max aircraft in December to take its orders for the type to 210, it recently ended talks over a potential 737 Max 10 order, citing an inability to reach agreement on pricing for the variant.
Ryanair expects to carry between 90 and 100 million passenger during the current Covid-hit year to March 2022.