Irish budget carrier Ryanair is "cautiously" projecting a small loss or breakeven for the year to March 2022 after net losses widened to €273 million ($321 million) for the first quarter.
While Ryanair highlights a sharp improvement in bookings for the current quarter since the recent easing in travel restrictions in Europe, it flags continued challenges and uncertainty over forward projections.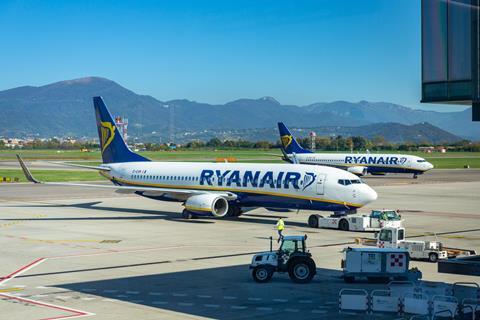 "With the booking curve remaining very close-in and fares well below pre-Covid-19 levels, visibility for the remainder of FY22 is close to zero. It therefore remains impossible to provide meaningful FY22 guidance at this time," it says.
But Ryanair has narrowed its traffic projection to expecting to carry between 90-100 million passengers for the year to March 2022 – it previously guided a range of 80-120 million – and "cautiously" expects the likely outcome for the year to be "between a small loss and breakeven". It, though, adds: "This is dependent on the continued rollout of vaccines this summer, and no adverse Covid variant developments."
Ryanair carried just over 8 million passengers during the quarter, almost half of which were flown during June as travel restrictions began easing in Europe. While an improvement on the half a million carried in the same quarter last year when the pandemic first struck, it is still well below the more than 40 million carried for the same period in 2019.
Revenues for the period climbed to €371 million, but again this is far below the €2.3 billion generated in 2019. Net losses for the three months ending June deepened from €185 million to €273 million.
Ryanair chief executive Michael O'Leary says: "Covid-19 continued to wreak havoc on our business during Q1 with most Easter flights cancelled and a slower than expected easing of EU government travel restrictions into May and June."
However, he adds: "The 1 July rollout of EU Digital Covid Certificates and the scrapping of quarantine for vaccinated arrivals to the UK from mid-July has seen a surge in bookings over recent weeks. Pricing remains below pre Covid-19 levels.
"Based on current (close-in) bookings, we expect traffic to rise from over 5 million in June to almost 9 million in July, and over 10 million in August, as long as there are no further Covid setbacks in Europe. We will continue our load active/yield passive strategy as we recover load factors over the course of FY22."
Further ahead O'Leary sees opportunities from cuts at rival carriers, which he believes "will create growth opportunities for Ryanair to extend airport incentives" as it takes delivery of its new Boeing 737 Max aircraft. The airline in June took the first three of a dozen of the type being delivered this summer, delayed by around two years as a result of the type's grounding.
"If, as is presently predicted, most of Europe's adult population is fully vaccinated by September, then we believe that we can look forward to a strong recovery in air travel for the second half of the fiscal year and well into Summer 2022 – as is presently the case in domestic US air travel," he says.