Low-cost carrier Ryanair is attempting to stimulate demand for winter travel by launching a buy-one-get-one-free flight offer and waiving change fees for tickets purchased in October and November, as it reports that bookings for the last two months of the year are significantly down on previous years.
During a 23 September appearance on the Peston programme, broadcast by UK network ITV, Ryanair Group chief executive Michael O'Leary said that "at the moment, November and December look like they're booking at around 10% of our normal volumes".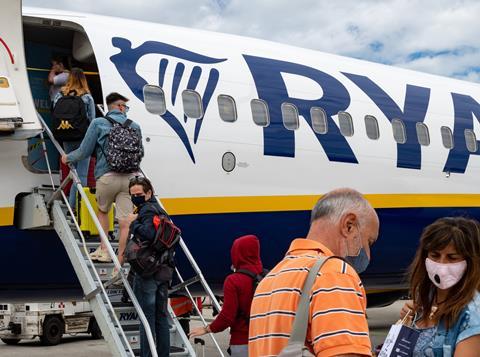 While he believes that the European Union has "come up with a very sensible travel plan which they hope to roll out from 13 October", O'Leary accuses the UK government of "mismanaging the situation" through its policy of enforcing quarantine restrictions on arrivals from entire countries and making last-minute changes to its travel-corridor safe list.
"If we stick to the current UK scheme where the government adds Portugal one week, takes it off the next week, adds Greece, takes it off… business people and people going away for weekends can't make any bookings with confidence, without having their plans disrupted," says O'Leary, who would like to see the UK sign up to the EU's travel plan.
In a 24 September interview with Sky News, O'Leary called on the UK government to extend its furlough scheme, which is due to end next month.
"We want to keep our pilots and our cabin crew employed and paid so we're going to have to have huge government assistance for that. Otherwise, I'm afraid, they're all going to go on unpaid leave for the winter," he says.
In a bid to stimulate demand, Ryanair is allowing customers who book flights in October and November for travel up until 21 March 2021 to change their flights without a fee. The carrier has also launched its "first ever" buy-one-get-one-free offer, whereby on certain fare bookings and selected routes customers can receive a second ticket on the same flight at no cost.
The lull in bookings has not stopped Ryanair from opening new bases, however. The airline announced on 23 September that it would open a new base at Paris Beauvais on 3 December. Ryanair will base two aircraft at the airport and launch two new routes to Manchester in the UK and Paphos in Cyprus. It says it will operate a total of 32 routes from Paris Beauvais, which will become its fourth base in France.