Kenya Airways and South African Airways have struck a preliminary co-operation deal with a longer-term view of launching a pan-African airline group.
The two African carriers signed the memorandum in Johannesburg today, in a move which they hope will assist the operators' post-Covid recovery but also longer-term co-operation plans.
SAA interim chief executive Thomas Kgokolo says the next step is to set up a joint working group to further discuss the memorandum and to put in place systems to achieve their stated objectives. The agreement is not exclusive, meaning both carriers can also pursue further co-operation deals.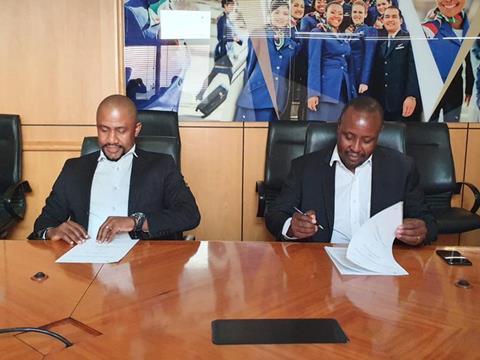 Both SkyTeam carrier Kenya Airways and Star Alliance operator SAA have faced financial struggles in recent years, compounded by the Covid crisis. Kenya Airways is still awaiting finalisation of plans to nationalise the carrier while SAA only resumed fights earlier this month after a year long absence while it completed a major restructuring
Kgokolo says collaboration will assist both airlines in the current and post-pandemic business and travel environment. This, he says, involves joint recovery strategies and other "cost-containment" strategies that will aid the recovery of both carriers.
"As well as being a strong local carrier, part of our broader growth strategy is to become a major player in regional travel and this joint memorandum with Kenya Airways, one of the continent's strongest and most respected carriers, will do just that," adds Kgokolo.
"It will also enhance related Kenya and South Africa tourism circuits, sectors which account for significant portions of respective country growth domestic product, benefiting from at least two attractive hubs in Johannesburg, Nairobi and possibly Cape Town. KQ and SAA, as iconic airline brands of Africa's biggest and vibrant economies, in East Africa and Southern Africa respectively, are at the precipice of what could be Africa's formidable Pan African airline.''
Kenya Airways chief executive Allan Kilavuka adds: "The future of aviation and its long-term sustenance is hinged on partnership and collaboration. Kenya Airways and South African Airways collaboration will enhance customer benefits by availing a larger combined passenger and cargo network."
He says that the link-up will help improve the customer experience by offering a wider range of destinations, as well as helping to standardise product and service offerings.