South African Airways' plan to restart domestic flights in mid-June has been called into question by its rescuers, who have criticised the airline for releasing an "unvetted" public statement that created an "unfair expectation" among stakeholders.
The struggling state-owned carrier said in a 26 May statement that it "looks forward to resuming domestic services" from mid-June.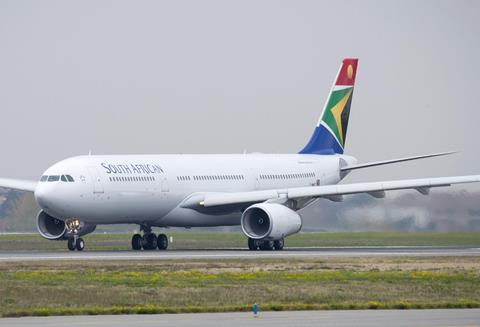 "Everyone at SAA is looking forward to welcoming and serving our customers once again," stated the airline's chief commercial officer, Philip Saunders. "Our operational preparedness is underlined by the significant role the airline has played in global repatriations to and from South Africa and by our desire to serve the domestic market."
However, SAA's business-rescue practitioner Matuson Associates says the airline made the service-resumption suggestion "incorrectly".
Matuson adds that SAA's statement was released "in violation" of the rescue practitioners' communications protocol, and deems it "unfortunate that the unvetted press statement created an unfair expectation on our relevant stakeholders, including SAA's customers as well as employees, who are on unpaid absence as a result of the travel ban which led to the halting of the company's operations and compounded its financial distress".
The cessation of flights "remains as is until SAA has a better sense of what the Level 3 lockdown means in terms of domestic air travel", Matuson stresses, noting that the airline "also needs to consider what the opening of the skies will mean from a commercial and load-factor perspective".
Earlier this month, SAA's rescuers were instructed by the standing committee on public accounts to produce a formal business plan for airline within 25 days, after a parliamentary standing committee expressed dissatisfaction with a draft publication. Matuson acknowledged the committee's remarks and promised to "accelerate production of the business rescue plan".
The flag carrier has been undergoing a business rescue process since December last year. On 20 May, South Africa's government announced that it had provisionally set aside R3.8 billion ($217 million) for the airline.