SAS has raised its annual cost-savings target to SKr7.5 billion ($800 million) under a fresh restructuring programme aimed at adapting the carrier to a "changed" market as it bids to prepare the ground to raise fresh equity.
Unveiling the wide-ranging SAS Forward programme, the airline says that without fundamental change the airline "will quickly exhaust" it's cash resources in the changed market the pandemic has created.
However, SAS has bolstered its cash position by drawing on the SKr3 billion credit line previously secured from the Danish and Swedish governments.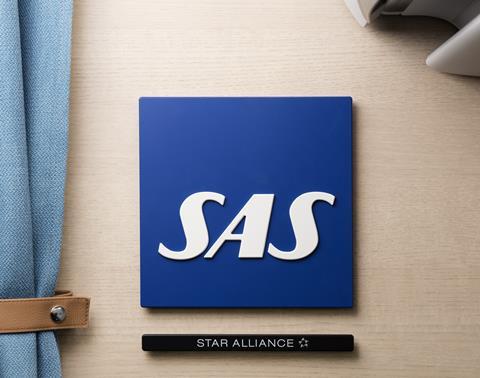 Speaking during a first-quarter results briefing, at which the restructuring programme was disclosed, SAS chief executive Anko van der Werff said: "SAS has for many years been burdened with a challenging cost structure; one that prevents the company from reaching its full potential.
"We have seen on top of that, the last two years having been the most challenging in aviation history. Now we find ourselves in a changed market. Travel patterns are different… we need to look forward and chart a course for that future. That is why we are launching our plan SAS Forward."
The new restructuring plan increases the company's annual cost savings target from the SKr4 billion announced in 2020 – around half of which has already been secured – to SKr7.5 billion.
"That is a far more ambitious plan than we have had before, simply because Covid lasted longer and we are now in a different market that requires us to be more ambitious about that cost-savings target," says van der Werff. That changed market includes adapting to lower-cost competition and increased demand in the leisure segment.
SAS chief financial officer Magnus Ornberg says the largest portion of the cost savings, around SKr2.3 billion, will come from its operating model and planning.
"We continue to phase out older, less fuel-efficient aircraft. We will secure a competitive ownership cost structure and engage with lessors," he says.
"We have also reviewed the need for widebody aircraft and we see a lower need, partly due to the demand. And a process of adjusting the fleet has started," Ornberg says. "We see a need to add capacity in the smaller segment to meet demand on thinner routes."
While the restructuring is a five-year plan, van der Werff says it is "more front-loaded than back-loaded".
He stresses the plan will require support from all stakeholders to reduce the airline's costs and de-leverage its balance sheet sufficiently to be able to secure new equity.
"We have designed a plan that makes sure that stakeholders will understand that if they participate, that is a better alternative," he says. "That means burden-sharing across the ecosystem. Part of that burden-sharing is equity, then going for new money. That new money will not come in if they don't have clear visibility that the cost-structure will be different.
"We need people to understand our situation," he adds. "The plan is designed in such a way that all stakeholders need to participate. It requires labour, it requires lessors, it requires so many other stakeholders to really say 'yes we are going forward'. That is what needs to happen and then we can go for the capital raise."
The airline points to the improved bookings picture for the summer fuelled by an easing in travel restrictions – it hopes to operate at least 80% of pre-crisis capacity – as supporting its cash position. That stood at SKr3.4 billion at the end of its first quarter and has now been supplemented by the drawing of credit lines from the Danish and Swedish governments, which are shareholders in the airline.
"We have made some defensive moves," says van der Werff. "On top of the SKr3.4 billion, we have drawn on the SKr3 billion, but to make it clear to the world this is not about a short-term liquidity crisis, this is not a rescue plan. This is about setting SAS up for future success. What is needed is new money, what we also need is a lower a cost-base, what we also need is that de-leverage, is making sure there is that debt-equity swap.
"We have made this plan, but have made all three inter-depending on each other. We can be a really successful company, but all of those three pillars need to work hand-in-hand."
The enhanced plan comes after the Scandinavian airline group posted a pre-tax loss of SKr2.56 billion for the first quarter of its financial year – which covers the three months from 1 November 2021 to the end of January 2022. That period was heavily impacted by the hit to demand from the Omicron variant, which brought to an end the carrier's run of increased activity.
Passenger levels were down 15% on the previous quarter and load factors fell four percentage points to 56%.