Tailwind Air, a US regional airline that flies floatplanes, has postponed the launch of its service between New York harbour and the Washington, DC area due to security concerns raised by federal authorities.
The seaplane carrier said last month that the first flights on a new route connecting New York's Skyport seaplane terminal on the East River to College Park airport in Maryland would take off on 13 September. But on 13 September, Tailwind instead said the new passenger service would be delayed until "at least" 26 September "due to unforeseeable considerations around use of College Park airport".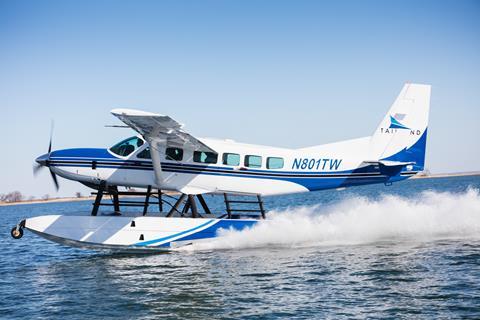 The passenger service could be delayed beyond a couple of weeks, however. During a 6 September College Park city council meeting, Mayor Patrick Wojahn said that Tailwind's rollout of the new route could be pushed back by 45 days, pending security reviews by the US Transportation Security Administration (TSA) and Federal Aviation Administration.
Additionally, the new service would require a change to College Park airport's operating rules because it does not currently allow scheduled commercial flights. The local airport authority supports the rule change, noting during the 6 September council meeting that commercial flights would bring in new revenue.
"We're still being proactive in that the mayor of College Park and everyone else wants this to happen," Lee Sommer, manager of College Park airport, tells FlightGlobal on 13 September.
TSA did not immediately respond to a request for comment.
The company says it will seek to connect New York harbour to an alternative airport in Washington, DC as soon as possible – though that plan is also being held up by federal authorities – and that passengers who booked flights in advance will be offered full refunds.
"We were compliant with published rules," says Tailwind's chief executive Alan Ram. "However, we have encountered additional considerations around scheduled service from new gateways into the Washington DC area."
Tailwind's flights between New York and the DC area were advertised as taking 75-85min, with the airline operating two flights a day with its fleet of amphibious Cessna Grand Caravan EX turboprops. Ticket sales for the postponed seaplane service to College Park airport had been "stronger than expected, showing there is interest in our much faster, less stressful solution", says Peter Manice, executive vice president of Tailwind Air Shuttle.
"We hope to secure the ability shortly to take off from a DC-area airport and land on the water in Manhattan, which we know will be a time-saving benefit for our customers," he adds.
The New York-based company began scheduled flights in 2021, connecting New York harbour to Boston harbour, and has operated exclusively in the northeast USA to date.