Singapore Airlines Group will in the next six months be reviewing the size and shape of its network and fleet over the long term.
The group, which comprises mainline carrier SIA, regional unit SilkAir and low-cost arm Scoot, says that the review comes as it examines the longer-term impact of the coronavirus outbreak on passenger traffic and revenue.
This, it says, "will provide better clarity on the fleet size and mix that the group will need".
"This review is likely to lead to a material impairment of the carrying values of older generation aircraft, particularly the A380 aircraft which would account for approximately S$1 billion ($727 million)," the group adds.
SIA currently operates 19 A380s, all of which have been in storage since March. SIA has been tightlipped about the aircraft's future, even as its peers around the world have been prematurely retiring the super jumbo.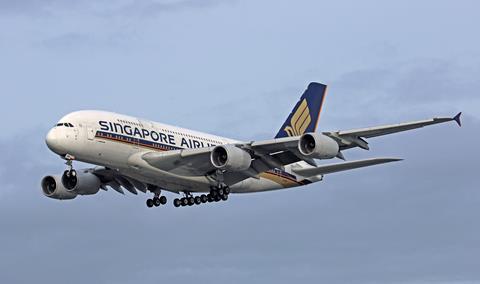 The SIA group disclosed in its financial results for the quarter ended 30 June that it has parked 148 of its 220-strong fleet in storage. Of them, 29 are stored in Alice Springs in Australia, while the rest are at its Singapore hub. At least seven A380s are reported to be parked in Australia.
It adds that it is discussing with Airbus and Boeing to defer aircraft delivery and payment, in a bid to moderate cash outflow and fleet growth.
The SIA group reported a record operating loss of more than S$1 billion for the quarter, amid a collapse in travel demand, and a longer than expected recovery trajectory.
SILKAIR MERGER 'REMAINS ON TRACK'
Separately, the SIA group states that the integration of regional arm SilkAir into mainline operations "remains on track", despite the upheavals caused by the pandemic.
It states that from the fourth quarter of fiscal 2020/2021, it will "transition SilkAir narrowbody operations to SIA".
This will begin with the carrier's Boeing 737-800s, which will be retrofitted a new cabin product, including lie-flat beds in business class.
SilkAir's integration into the main SIA brand has been jeopardised by the worldwide grounding of the 737 Max. SilkAir has six 737 Max 8s in storage and a further 31 on order.
SIA had intended to upgrade SIlkAir's service offering with the 737 Max aircraft, with the 17 737-800s going to Scoot.
However, that has been put off for the moment amid the grounding, to ensure sufficient capacity at SilkAir.
In its latest statement, SIA says the integration of SilkAir into SIA "will also deliver greater economies of scale for the group, and allow it to deploy the right aircraft to meet the demand for air travel as it returns".