Singapore Airlines has fully utilised the S$8.8 billion ($6.54 billion) in gross proceeds from a June 2020 rights issue.
The carrier states in a 16 September filing that it has used the last S$600 million in funds for aircraft and aircraft-related payments between 1 July and 1 September.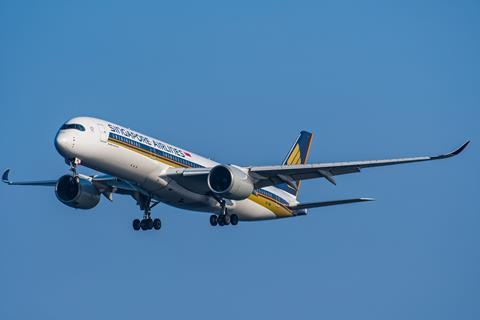 SIA adds that it has yet to tap into net proceeds from a June 2021 mandatory convertible bond issue, which netted the carrier S$6.2 billion in additional liquidity.
"[SIA Group] continues to retain access to S$2.1 billion of committed lines of credit that remain undrawn at present," the carrier adds.
Of the S$8.8 billion raised in June 2020, a large proportion of funds — or around S$2.2 billion — went to operating expenses incurred between June 2020 and 1 September 2021.
USE OF PROCEEDS FROM JUNE 2020 RIGHTS ISSUE
S$2.0 billion for a one-time repayment of a bridge loan from DBS Bank, Singapore
S$2.2 billion for operating expenses incurred
S$1.4 billion for ticket refunds
S$1.8 billion for debt service, including S$1.1 billion for repayment of lines of credit, as well as S$0.5 billion for redemption of fixed rate notes
S$1.4 billion for aircraft and aircraft-related payments
To date, the airline has raised S$21.6 billion in fresh liquidity, as it strengthens its war chest against the coronavirus pandemic, which has pummelled its operations and profitability.
"While international air travel continues to be affected by the pandemic, the company will remain prudent and proactive in managing its liquidity," it says.
SIA Group narrowed its first-quarter losses on the back of an increase in revenue. For the three months ended 30 June, the group was S$274 million in the red at an operating level. This compares with the S$1.04 billion operating loss it reported for the same period in 2020, at the onset of the pandemic.