Singapore Airlines (SIA) plans to steadily expand its network in the coming months, as it sees a gradual recovery stemming from global vaccination campaigns.
SIA offered this outlook in its February traffic data, which showed that group capacity fell 75.6% from a year earlier, while passengers carried fell 96.6.%. The airline's load factor plunged 59.4 percentage points to 9.7%, affected by travel restrictions related to the coronavirus pandemic.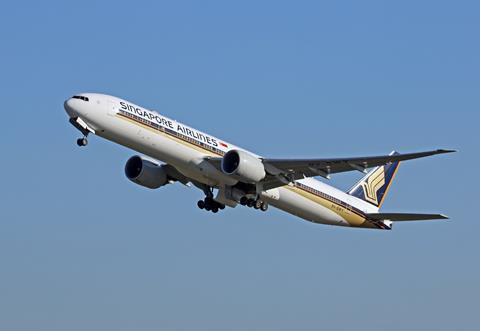 "The growing pace of vaccinations around the world, especially in key markets for the SIA Group, supports cautious optimism for a measured recovery in the demand for air travel in the second half of 2021," says SIA.
"In the coming months, the group expects to see a calibrated expansion of the passenger network."
In May, it expects to operate 26% of its pre-coronavirus network. It plans to reinstate SIA's Singapore-Tokyo Haneda in March, with both SIA and Scoot to offer Singapore-Taipei services from April.
The only bright spot in SIA's February traffic numbers was air cargo, where SIA Cargo enjoyed a cargo load factor of 94.6%, 35.9 percentage points higher than February 2029. Nonetheless, FTKs were down 27.1% owing to the capacity contraction the cargo sector is suffering owing to the lack of bellyhold space in passenger jets.
"In February 2021, border controls and travel restrictions remained in place in many parts of the world to stem the spread of Covid-19 and amid concerns about the emergence of more virulent strains of the virus," says SIA.
"As a result, the demand for international passenger air travel continued to be severely dampened."