Singapore Airlines Group significantly narrowed its full-year losses, as revenues double on the back of borders re-opening.
For the year to 31 March, the airline group – comprising mainline carrier SIA and low-cost unit Scoot – was S$610 million ($440 million) in the red at operating level.
This compares with a S$2.5 billion operating loss it chalked up in the previous financial year, which it had called the "toughest year in its history".
Group revenue almost doubled year-on-year to S$7.6 billion, with passenger revenue increasing four-fold to S$2.8 billion. The airline group carried 3.9 million passengers in the financial year, representing a six-fold rise year on year, with traffic climbing seven-fold and capacity three times higher.
SIA Group attributes the uptick to Singapore's launch of travel lanes for fully-vaccinated travellers, a move it calls a "game-changer". Singapore has from 1 April retired the Vaccinated Travel Lane scheme, and instead fully opened international borders.
"[The Vaccinated Travel Lanes] facilitated quarantine-free mass travel for the first time since the Covid-19 pandemic began, and significantly boosted the demand for flights to and through Singapore," the group adds.
The group also saw record takings from its cargo business, with freight revenue rising 60% year on year to a new high of S$4.3 billion.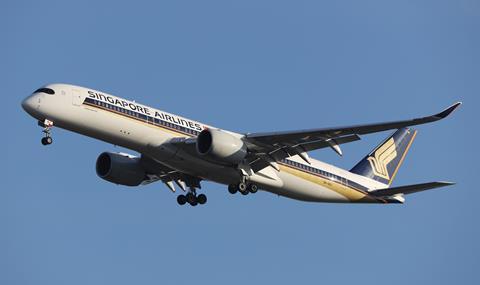 Group expenses for the full-year grew 30% to S$8.2 billion, led by a two-fold rise in net fuel costs.
SIA Group reported a net loss of S$962 million, an improvement on the record S$4.3 billion net loss in the previous financial year. This was due to better operating performance, as well as lower impairment costs, it adds.
It eked out a S$10 million operating profit in the six months to 31 March, helped by borders re-opening in its key markets.
SIA Group ended the year with S$13.8 billion in cash and cash equivalents, significantly higher than the S$7.8 billion at the start of the year.
CLOSING IN ON FULL RECOVERY
In its outlook, the airline group expects a further rise in travel demand in the coming months, with forward seat sales through August fast approaching pre-pandemic levels.
By end-June, the carrier expects to be flying at 61% pre-pandemic capacity, with the figure expected to rise slightly to 67% by end-September.
As for cargo, SIA Group expects "near-term volatility" in demand, as a result of the Ukraine conflict, as well as pandemic curbs in China, which is experiencing a resurgent wave of coronavirus infections. It notes that yields "are likely to remain healthy due to the continued industry capacity crunch on key trade lanes".
It has flagged the rising cost of fuel as an area of concern, though it stresses that it will maintain cost discipline, "even as operations expand in line with demand".