Singapore Airlines and low-cost unit Scoot will maintain passenger capacity through February, despite a tightening of travel restrictions in recent months following a spike in coronavirus cases.
This comes as both carriers report a new high in passenger numbers for December, thanks to efforts to reopen the city-state's borders.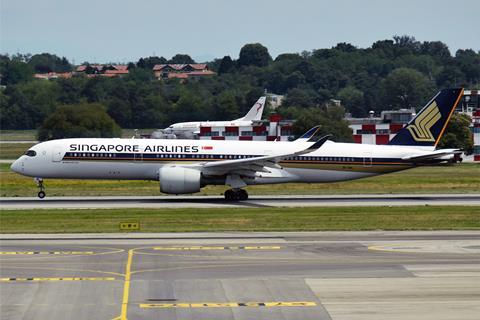 In traffic results released for December, both SIA and Scoot state that they will operate around 47% and 45% of pre-pandemic capacity for January and February, respectively.
This compares with passenger capacity for December, which the airlines report to be around 45% of pre-pandemic levels.
Following a rise in cases caused by the Omicron variant, Singapore suspended new ticket sales under its vaccinated travel lane (VTL) scheme, which allows fully-inoculated travellers to enter the country without the need to quarantine. The suspension will lift on 20 January, and the city-state has halved the arrival quota from 21 January.
SIA adds: "The group will continue to be nimble and manage its network in accordance with the prevailing market conditions and regulations."
The carrier points out that the VTL scheme led to a "significant step-up" in passenger travel demand in December.
During the month, both SIA and Scoot carried close to 600,000 passengers, more than double the number flown in November. Compared to the same month in 2020, the figure — the highest since the pandemic first began — is a seven-fold jump.
Compared to November, both carriers added 13 more cities to their network — including eight under the VTL scheme — which led to a 20.5% rise in capacity month on month.
SIA and Scoot reported passenger load factor in December to be 46.5%, up nearly 33 percentage points year on year, and a 17.4 percentage point rise compared to November.