Regional carrier Silver Airways has raised $50 million in capital, added several new aircraft to its fleet and received certification to operate freighter service.
The Fort Lauderdale-based airline says on 9 February that it also recently finalised the integration of Puerto Rico-based Seaborne Airlines, which it acquired in April 2018 while Seaborne was in bankruptcy protection, and added more routes in the southeastern USA.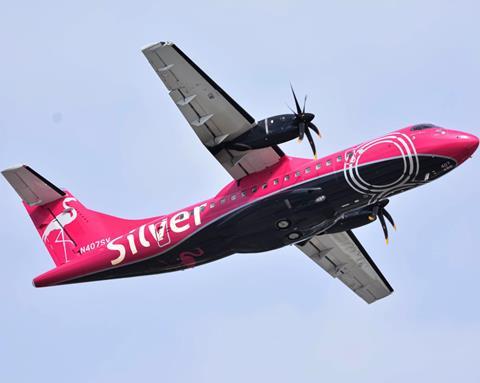 "After the most extraordinary period in commercial aviation history, we are humbled and energised by achieving these transformational initiatives," says chief executive Steven Rossum. "With new, long-term financing, a fleet portfolio comprised of young, fuel efficient, and environmentally friendly aircraft, the final integration of our San Juan-based subsidiary Seaborne Airlines, and our new cargo operations all in place, Silver is now positioned to execute on its tremendous opportunities in the regional passenger and cargo sectors."
The carrier recently took delivery of two new ATR 42-600s in December, bringing its ATR-600 passenger fleet to 11 aircraft – eight of the ATR 42-600s, and three of the larger ATR 72-600s.
Silver says it plans "further significant ATR-600 fleet growth" in 2022. According to Cirium fleets data, it still has seven ATR 42-600s on order.
The company had started flying the ATR 42-600 aircraft in April 2019, to replace its fleet of ageing Saab 340 turboprops. It was the first US carrier to operate the type. Silver still has four of the Saabs in service, and one in storage.
The carrier also recently expanded passenger routes across the southeastern US states of Florida, Georgia, South Carolina, and Louisiana. It now serves 31 destinations in the USA and the Caribbean.
In addition, Silver says it launched cargo service with five ATR 72-500 freighters at the end of 2021, after receiving certification for those operations. Those aircraft are operating out of a base in Fort Worth, Texas.