Singapore Airlines Group posted a net profit of S$85 million ($63 million) for the three months ending December 2021, as an initiative to reopen borders for vaccinated travellers during the quarter helped it out of the red for the first time since the pandemic started.
The airline group carried twice as many passengers as in the previous quarter, in carrying 1.1 million people between October and December – the third quarter of SIA's financial year. The majority of these passengers, 966,000, were carried by Singapore Airlines – the remainder by its budget operator Scoot.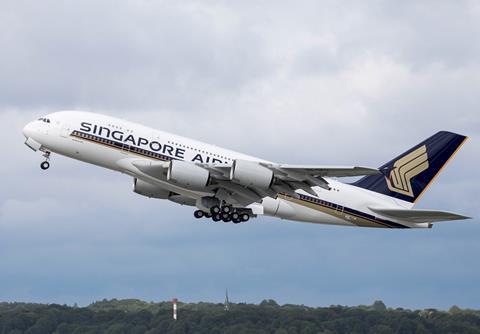 Stronger passenger demand stemmed from Singapore's launch of Vaccinated Travel Lanes (VTL) – which SIA terms a "game changer" and which is being expanded to more countries after a pause of nearly two months amid a spike in Omicron infections.
The increased passenger traffic combined with continued strong cargo activity to drive a more than doubling in group revenues for the third quarter, to S$2.3 billion.
This growth in revenues outpaced higher costs from the expansion of operation and the group posted an operating profit S$76 million. That compares to an operating loss of S$331 million for the same period the previous year.
It marks the first profit the group has posted since the pandemic, though SIA remains loss-making over the first nine months of its financial year. While the group posted an operating loss of S$543 million and a net loss of S$752 million for the nine months, this is a marked improvement on the same stage last year.
SIA ended the third quarter with passenger capacity at 45% of pre-Covid levels. It expects this to reach 51% by the end of March, by which times it will be serving over 70% of its total pre-Covid destinations.
"While demand should continue to recover, especially on VTL services, passenger traffic is likely to moderate in the fourth quarter after the year-end holiday season," SIA says. It also points to the additional border restrictions imposed by governments in response to Omicron, though it notes these measures are gradually easing.
"Following a record peak period in the third quarter of FY2021/22, overall air cargo demand is expected to ease in the fourth quarter. This is in line with seasonal fluctuations, and the traditional slowdown in exports during the Lunar New Year holiday period," the airline adds.
"Nonetheless, both air and sea freight capacities are expected to remain tight during the quarter, supporting loads and yields."