Singapore Airlines Group is to cut 4,300 positions across its airlines in a further sign of the scale of the impact of the coronavirus pandemic on the air travel industry.
SIA expects to only be operating less than half its capacity by the end of the current financial year in March 2021, and notes that industry forecasts suggest a full recovery in air traffic is not expected before 2024.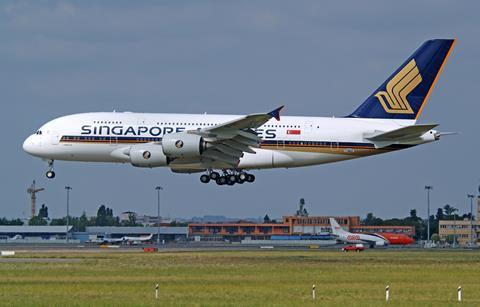 It adds: "Relative to most major airlines in the world, the SIA Group is in an even more vulnerable position as it does not have a domestic market that will be the first to see a recovery. In order to remain viable in this uncertain landscape, the group's airlines will operate a smaller fleet for a reduced network compared to their pre-Covid operations in the coming years."
While the headline number of positions being cut is 4,300, the group says expects around 2,400 staff to be impacted after taking into account a recruitment freeze implemented in March, natural attrition and staff leaving under voluntary departure schemes.
SIA Group says the cuts apply across Singapore Airlines, Silk Air and low-cost unit Scoot; talks have begun with its Singapore-based unions.
Singapore Airlines chief executive Goh Choon Phong says: "When the battle against Covid-19 began early this year, none of us could have predicted its devastating impact on the global aviation industry. From the outset, our priorities were to ensure our survival and save as many jobs as possible.
"Given that the road to recovery will be long and fraught with uncertainty, we have to unfortunately implement involuntary staff reduction measures."
Singapore Airlines Group employed over 28,000 staff, according to the group's 2019/20 annual report. The includes over 17,000 at Singapore Airlines, around 2,400 at Scoot and nearly 1,400 at Silk Air.
Last month the group said that more than 6,000 employees, including ground staff, pilots and cabin crew, have taken varying amounts of unpaid leave since March.
SIA Group reported an operating loss of more than S$1 billion ($730 million) over the three months ending 30 June 2020, as revenues collapsed - bolstered only by increasead cargo activity. Group passenger levels plunged 99.6% during that quarter and passenger capacity was expected to reach only 7% of pre-Covid levels by the end of September.
The group has been carrying out a size and shape network review - and the fleet required to operate it - which it expected to complete by the end of September.