Regional carrier Skywest Airlines swung to profit in 2021, but says that the impending pilot shortage will negatively affect its 2022 planning.
The St. George, Utah-based airline, which flies under contract for United Airlines, American Airlines, Alaska Airlines and Delta Air Lines, says on 3 February that it made a profit of $4 million during the final three months of last year, compared to a loss of $46 million in the same quarter a year earlier.
The carrier earned $111 million during the full year, up from a loss of $8.5 million in the full year 2020.
Total revenue for the fourth quarter came in at $777 million, up 32% from $590 million in the final three months of 2020. For the full year, revenue was $2.7 billion, up from $2.1 billion in 2020.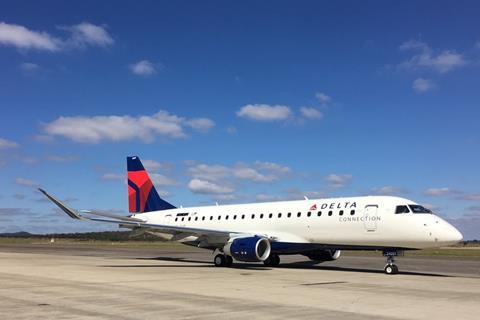 "We continued to see very strong demand for our product during the fourth quarter. While we are facing new headwinds as the industry prepares to operate in a post-pandemic environment and we work to rebalance staffing, we remain focused on delivering an exceptional product," says chief executive Chip Childs. "We expect this will be another transition year with break-even profit."
During 2021, the airline says it transported more than 36 million passengers, up from 21 million passengers in 2020.
SkyWest will place 47 new Embraer 175 aircraft into service in 2022 and early 2023, of which 18 aircraft were delivered at the end of 2021, and 29 aircraft have deliveries scheduled in 2022 or early 2023. By early 2023, it will have 240 Embraer E175s in its fleet.
"The demand for E175s is very strong and is becoming the backbone of our flying," adds chief commercial officer Wade Steel.
The carrier currently has 509 aircraft in its fleet, of which 211 are E175s.
PILOT SHORTAGE
Staffing issues will be among the biggest headaches for Skywest and its peers, as all US airlines scramble to fill cockpit crew seats left open by senior captains who retired in the early stages of the coronavirus crisis in 2020.
At that time, and as a result of the precipitous drop in demand resulting from lockdowns and other draconian travel restrictions designed to mitigate the spread of the coronavirus, airlines shrunk their networks, shed staff and stored or retired aircraft, in order to reduce costs while earning little or no income.
Regional carriers, whose pilots tend to fly shorter legs in smaller aircraft, also pay lower salaries than the legacy carriers. So their attrition rates have been higher than the majors, as the majors recruit from the regionals' ranks.
An "imbalance of pilots" had been planned for, Childs says, "but the rapid increase in captain attrition was not".
"Given recent staffing challenges, we currently anticipate our block hours in 2022 may be down approximately 10%-15% from our 2021 production," he adds. The "production constraints" will continue "for the next year or so".
In the fourth quarter, Skywest flew a total of 348,939 block hours, up 30% from the same quarter in 2020. For the full year, that figure was 1,319,628 block hours, up 36% on 2020.
During the first quarter of 2022 the Childs says the airline plans to fly 5% fewer block hours compared to the fourth quarter 2021. During the second quarter block hours will be 11% lower than last year's final quarter.
"While demand for our product has never been stronger, the current staffing imbalance and ongoing re-fleeting doesn't allow us to monetise that demand in the short term," he says.