Plans for a terminal extension at London City airport are being reviewed after the operator decided to pause its development plans at year-end as it adjusts to the post-pandemic travel demand.
The city centre airport secured approval for a major expansion in 2016, including plans for a terminal extension, with facilities due to begin entering service from 2022.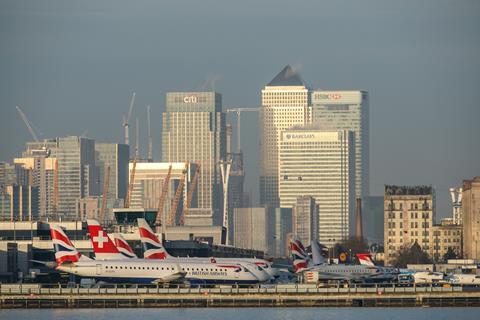 Flights were suspended at London City in late March as the pandemic brought international passenger services to a standstill, before re-opening on 21 June.
While the airport says there has been a return to flying, it notes the recovery of the UK aviation market has been slower than expected and says passenger volumes will be "well down" on the 5.1 million handled by the airport in 2019.
"Furthermore, it has become clearer that the recovery to previous levels will take longer than initially expected," the airport says. "It is in this context that the airport has decided to re-evaluate the timing of the next phases of the development programme, including the new terminal extension."
London City airport chief executive Robert Sinclair says: "For the time being, we have taken the decision to focus our attention on delivering the vital additional airfield infrastructure which will provide our existing and prospective airline customers with the potential to bring new-generation aircraft to this airport in greater numbers, which will be a crucial aspect of how we build a better, more sustainable airport.
"Completing the terminal extension and new east pier very much remains part of our future, and, with the foundations for both in place, we stand ready to take those projects forward when demand returns." he says.
Work will be paused at the end of the year, by which point the airport will have completed a number of airside infrastructure and capacity projects. This includes eight new aircraft stands capable of accommodating new-generation aircraft, such as the Airbus A220 and the Embraer E190-E2, along with a full-length parallel taxiway allowing 45 aircraft movements per hour.
A new immigration facility will open in September, while a new baggage facility will be operational next summer.
Alongside its expansion project, London City airport began consulting last summer on a longer-term master plan covering its growth needs over the next 15 years. That set out a projected demand for passenger levels at London City rising to 9.8 million by 2030 and reaching 11 million by 2035.