South African Airways acting chief executive Zuks Ramasia will retire on 14 April, less than a year after assuming the position.
The flag carrier says it has accepted a request from Ramasia for early retirement. Her interim successor will be announced "in due course", adds the airline.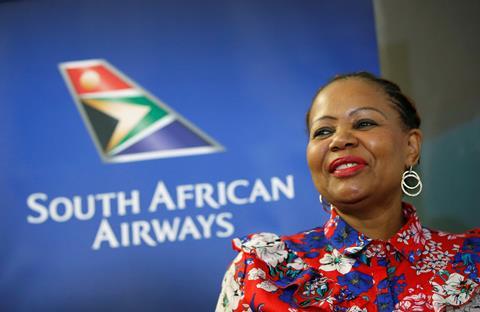 Ramasia became acting chief on 10 June 2019, following the resignation of Vuyani Jarana. The former general manager of operations had been appointed to run the struggling airline while it searched for a permanent successor to Jarana.
She joined SAA as a cabin-crew member in 1992, rising through the ranks to become general manager of operations in 2012.
"Her journey was truly an example of how a number of women are progressively moving up the ranks in previously male-dominated industries," states SAA chair Thandeka Mgoduso.
SAA is being restructured under a business rescue plan amid heavy losses and questions over its organisational structure. The South African auditor general's office in February testified to the chaotic condition of the carrier's organisation during a judicial commission examining allegations of corruption and fraud in state companies.
It described some aspects of SAA's as "quite dire", and detailed multiple concerns picked up during its audit of the company's financial state.