Restructured South African Airways has this morning resumed flights, carrying out its first service since last year on the Johannesburg-Cape Town domestic route.
SAA – which has been through a formal business restructuring process – was forced to suspend passenger flights in March 2020 when South Africa locked down to counter the pandemic. While it continued to operate cargo and repatriation flights, the carrier suspended all operations at the end of September 2020 as it sought to finalise a funding package.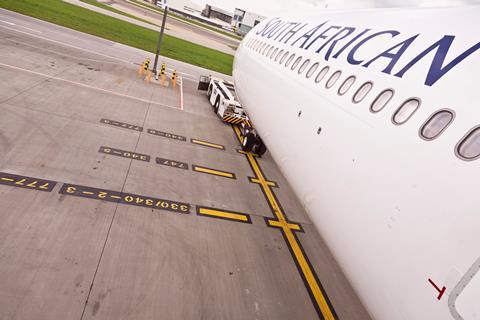 The carrier has since secured a government bailout to support its restructuring to enable it exit business rescue, which it had first entered before the pandemic in December 2019. New investors were identified in June this year, though the deal with the Takatso consortium is still to be finalised..
In August the slimmed down carrier regained its operating licence, enabling SAA to resume services today.
Alongside the thrice-weekly domestic link, SAA is also planning to start flights to five African capitals: Accra, Kinshasa, Harare, Lusaka and Maputo.
SAA's interim chief executive Thomas Kgokolo says: "Our journey back to the skies has not been easy. We restart this business with a new vision of pride in the brand and one that has been inculcated into every staff member.
"Our first order of business is to service our start-up routes efficiently and profitably and then look to expanding the network and growing our fleet, all depending on demand and market conditions."
SAA chairman John Lamola says that SAA's return will provide "more market equilibrium" in fares. "Since the carrier went into and then out of business rescue there has been less local capacity and that means tickets have become more expensive. Our return to the skies will mean more competitive pricing and will enable more South Africans to fly," he says.
Kgokolo has previously said he expects SAA to resume operations with a fleet of around eight aircraft.