South Korean low-cost carriers remained in the red during the second quarter, though losses narrowed on the back of revenue uptick.
For the quarter ended 30 June, Korean Air sister carrier Jin Air reported an operating loss of W49 billion ($41.7 million), narrowing the W60 billion loss it made during the same period in 2020.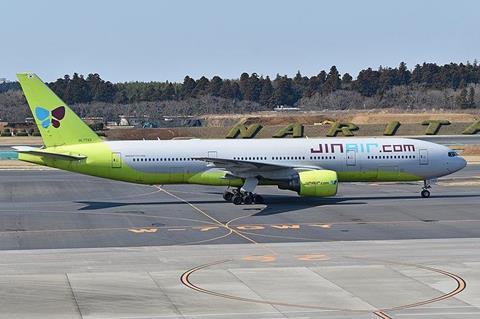 Jin Air also narrowed its net loss — at W50.4 billion in the current quarter, compared to W59 billion in 2020.
The low-cost carrier more than doubled revenue, to W63.4 billion, outpacing a 36% increase in costs to W112 billion.
Domestic services accounted for 88% of revenue, as border restrictions were still in effect. Cargo revenue for the quarter shrank: while it made up 6% of the airline's revenue in the second quarter of 2020, it only made up 0.3% in the current period.
Jin Air flew 2.8 million passengers during the quarter, reflecting a 59% increase. Capacity more than doubled, though traffic fell 51% year on year.
Compatriot T'way Air disclosed an operating loss of W34.8 billion, narrowing the W48.5 billion loss it reported last year.
Revenue for the quarter increased more than two-fold to W56.8 billion, as the airline increased flying activity.
It mounted more than 8,700 flights during the period, 46% higher year on year. Passenger numbers, at 1.4 million, was nearly 70% higher compared to the same quarter in 2020.
The carrier also narrowed its net loss, at W30.6 billion, compared to W50.2 billion in 2020.
Meanwhile, Jeju Air reported an operating loss of W70.8 billion for the three-month period. Comparatively, the airline was W84.3 billion in the red for the second quarter of 2020.
Net loss for the period fell 44% year on year to W55.7 billion.
Jeju more than doubled revenue for the period to nearly W75 billion, while costs rose 28% to W124 billion.