South Korea's Eastar Jet has filed for court receivership as a means to restructure, according to local media reports.
The privately owned low-cost carrier will continue its search for a new buyer to stay in business, Nikkei Asia reported on 16 January citing a source familiar with the matter.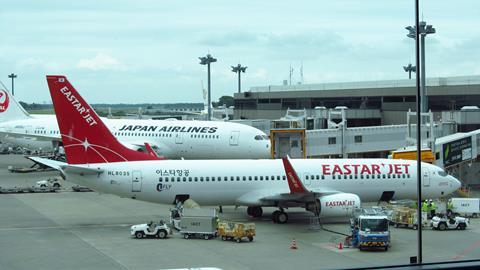 Earlier, Eastar was quoted as saying it aims to find a new investor through a court-led rehabilitation scheme in a 13 January report by local English-language media Yonhap.
Compatriot Jeju Air announced in December 2019 that it would acquire 51% of Eastar at W69.5 billion ($63 million). The parties agreed on a lower, W54.5 billion consideration in March 2020 but the deal eventually fell through in July as they could not come to an agreement.
Eastar is unable to tap South Korea's W40 billion Key Industry Stabilisation Fund, administered by the Korea Development Bank (KDB), as it and various other local LCCs had already suffered capital erosion before the Covid-19 pandemic hit, KDB chairman Lee Dong-gull said end-September.
Cirium fleets data shows that Eastar Jet has seven Boeing 737 NGs in storage, 10-15 years old and acquired second-hand. Its first two 737 Max 8 jets were delivered new at the end of 2018, with another four of the type in its orderbook.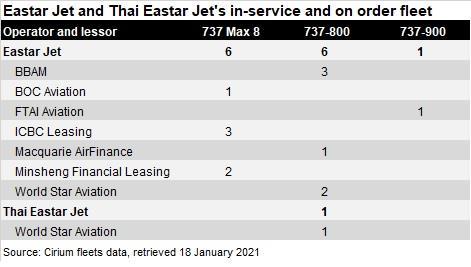 Thai Eastar Jet, a joint venture between Eastar Jet and local investors, has one 2010-built 737-800, also acquired second-hand.
Lessors most exposed to Eastar Jet are World Star Aviation, BBAM and ICBC Leasing, each managing three aircraft.
Cirium schedules data shows that in 2016-2019, Eastar Jet had 13-15% of the South Korean LCC market by seat capacity, making it the second-smallest budget carrier after Asiana Airlines affiliate Air Seoul, which launched in 2016 and had less than 5% share over the same period. Jeju Air was the dominant player in the market, with a 27-29% share.