Southwest Airlines hopes to be "solidly profitable" for the full year as the company bounces back from a rocky first quarter.
The Dallas-based carrier says on 28 April it posted a $278 million loss for the quarter, compared to a $116 million profit in the first three months of 2021, and a $387 million profit during the same quarter in pre-pandemic 2019.
Revenue for the quarter rose to $4.7 billion, from $1.7 billion during the first three months of 2021.
"The first quarter was a tale of two very different environments," says chief executive Bob Jordan during his first quarterly results call since taking the top job from long-time-CEO Gary Kelly in February.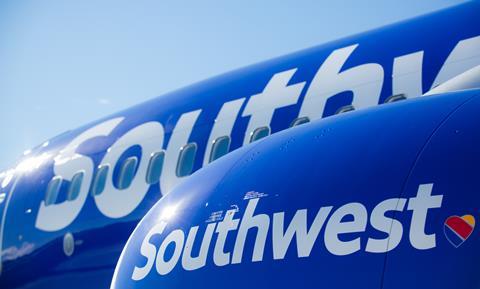 "While we reported a loss in Q1, we were solidly profitable in March. But for the Omicron impact we estimate that we would have been profitable in the first quarter."
Like its airline peers, Southwest experienced "softness in bookings and increased passenger cancellations in January and February 2022 associated with the Omicron variant", and cancelled flights due to staffing challenges and weather issues. Combined, those hiccups resulted in a $430 million overall negative impact to operating revenue, Southwest says.
"Based on current plans and expected continued strong bookings, we continue to expect to be solidly profitable for the remaining three quarters of this year, and for full-year 2022," he adds.
Corporate travel is lagging leisure, and Southwest expects revenue from corporate travel will be 30% less in April than in the same month in 2019.
"The company remains optimistic about the return of business travel demand in 2022 based on the renewed momentum experienced in March and April 2022," Southwest adds.
"If we have learned anything about this pandemic recovery, it can be choppy," adds chief financial officer Tammy Romo.
EMPLOYEE SHORTAGE
The company's priorities include restoring staffing levels and returning to "operational reliability", acquiring more Boeing 737 Max and restoring the airline's network, especially on shorter-haul business routes.
Southwest's workforce remains below 2019 levels despite the carrier hiring more than 10,000 new employees since last year. About 15% of its employees joined the company since last fall; those staffers need time to learn the ropes and become more efficient, Jordan adds.
The employee shortage is most acute in its pilot and flight instructor staff, executives say.
"We are looking to hire north of 1,000 pilots this year, and if we can get up to full capacity we can produce up to 2,300 pilots next year if we need to," says Andrew Watterson, chief commercial officer.
Southwest has replaced about half to one-third of pilots it lost to retirements and leave-taking at the beginning of the Covid-19 global health crisis in early 2020.
The airline is hoping that retention and referral bonuses will help maintain a stable pilot population. It is also hiring retired pilots to work as flight instructors, and plans to hire up to 60 instructors, Jordan adds.
For the second quarter, the carrier expects an 8-12% increase in revenue over comparable 2019 levels and an 85% load factor, up from 77% in the first quarter. Southwest anticipates ending 2022 with 814 aircraft, up from 722 at the end of March.