Roughly 10,000 pilots represented by Southwest Airlines Pilots Association (SWAPA) have voted emphatically in favour of authorising a strike as negotiations with the airline on a new contract have stalled.
SWAPA said on 11 May that the vote closed after a week and a half of voting with 98% pilot participation – and 99% of those opted to authorise a potential strike.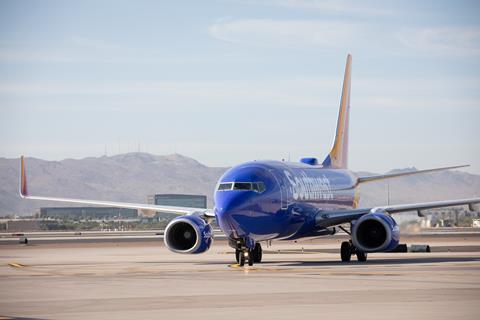 SWAPA negotiating committee chair Jody Reven will now petition the National Mediation Board to release the union to self-help "imminently", the union says.
"We will follow the process set forth by the Railway Labor Act and continue toward a strike," SWAPA says. "We want our passengers to understand that we do not take this path lightly."
Southwest responded to the strike authorisation vote by noting that its pilots are "not on strike" and "the vote result has no impact on our scheduled operations". The airline says it still expects mediation to end in a new contract for its flight deck crews, and for its summer schedule to be unimpeded by the negotiations.
"Our negotiating team continues to bargain in good faith and work toward reaching a new agreement to reward our pilots," says Adam Carlisle, vice-president of labour relations at Southwest Airlines. "This anticipated authorisation vote result does not change our commitment to the negotiation process, and we look forward to continuing discussions with SWAPA at the negotiating table."
Pilots at other airlines, notably at Delta Air Lines, Hawaiian Airlines, JetBlue Airways and Spirit Airlines, which are all represented by much larger union Air Line Pilots, International (ALPA), have in recent months won lucrative new contracts.
Air Canada's pilots – previously represented by the Air Canada Pilots Association (ACPA) – recently voted to merge with ALPA. And on 7 May, an "overwhelming majority" of pilots with Canadian start-up carrier Lynx Air also voted to join the world's largest pilots' union.
SWAPA says that with a potential strike looming, its pilots "have already made their voices heard about the operational disasters and the lack of progress after three-plus years of stagnant negotiations".
"The lack of leadership and the unwillingness to address the failures of our organisation have led us to this point," says SWAPA President Casey Murray. "Our pilots are tired of apologising to our passengers on behalf of a company that refuses to place its priorities on its internal and external customers."
Southwest reported a $159 million loss during the first quarter of 2023 and a company-record $5.7 billion in quarterly revenue. The airline's expenses for the first three months of the year totalled nearly $6 billion, including $380 million related to its total operational meltdown during the peak of December 2022 holiday travel.